Kim Haupt C'23 shifts her community service efforts during pandemic
April 2020 – Drew University student Kim Haupt C'23 is putting her time learning from home to good use.
The first-year Civic Scholar student has organized a food drive in her hometown of Cranford, NJ, to serve those in need amid the coronavirus pandemic.
"I wanted to be involved in my community because of how lucky I am to be comfortable during this time, and I was cognizant of the fact that others cannot say the same," she said.
Haupt had been working with the Interfaith Food Pantry through Drew's Civic Scholar program and her Community-Based Learning course. Due to Drew's shift to virtual learning and adherence to social distancing measures, she was forced to pause those efforts. But that didn't stop her from doing good in her community.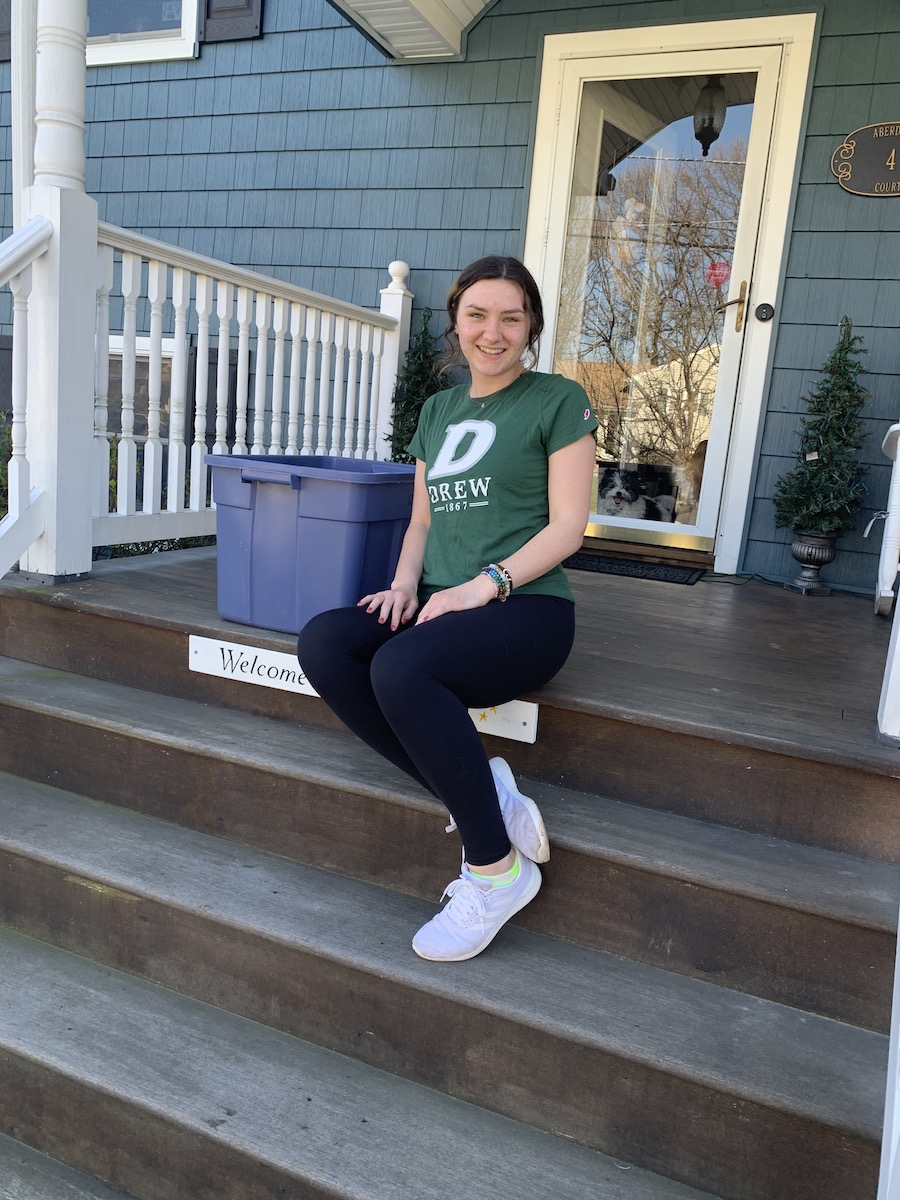 "There are many vulnerable populations, including those on food assistance programs, that are being hit the hardest at a time like this, so a food drive felt like it addressed a critical problem."
Her preexisting relationship with the Interfaith Food Pantry, along with help from Amy Sugerman, assistant director of civic engagement, made organizing the project manageable.
In recent days, Haupt has set up a donation bin at her home's front porch, with all donations set to go to the Interfaith Food Pantry. She has spread the word through social media, with help from fellow Civic Scholars and the Civic Engagement department. Donors are able to keep socially distant by simply dropping off donations in the bin at their convenience.
As of this writing, Haupt is on bin number two.
"The response has been very positive," she said. "I completely understand and recognize that every family is experiencing their own burdens and some may not be in a position to donate, but they've been able to help in other ways, like spreading the word about this effort."
While donations remain the primary goal of the project, there have been additional silver linings along the way.
"This experience has given me a little slice of hope," said Haupt.
"It's times like these that make people come together in ways they might not have otherwise. This food drive is just one example of that. I've learned that kindness and compassion can only make a situation better."