Alex Pearce C'18 reflects on his time at Drew and next stages of his career
April 2020 – Drew University AmeriCorps Changebuilder coordinator Alex Pearce C'18 has turned working part time into working overtime in the fight against COVID-19.
On campus, Pearce helps develop meaningful volunteer opportunities for Drew students. In his other part time job—in the Morristown Medical Center (MMC) surgical access unit—he cares for patients after surgery.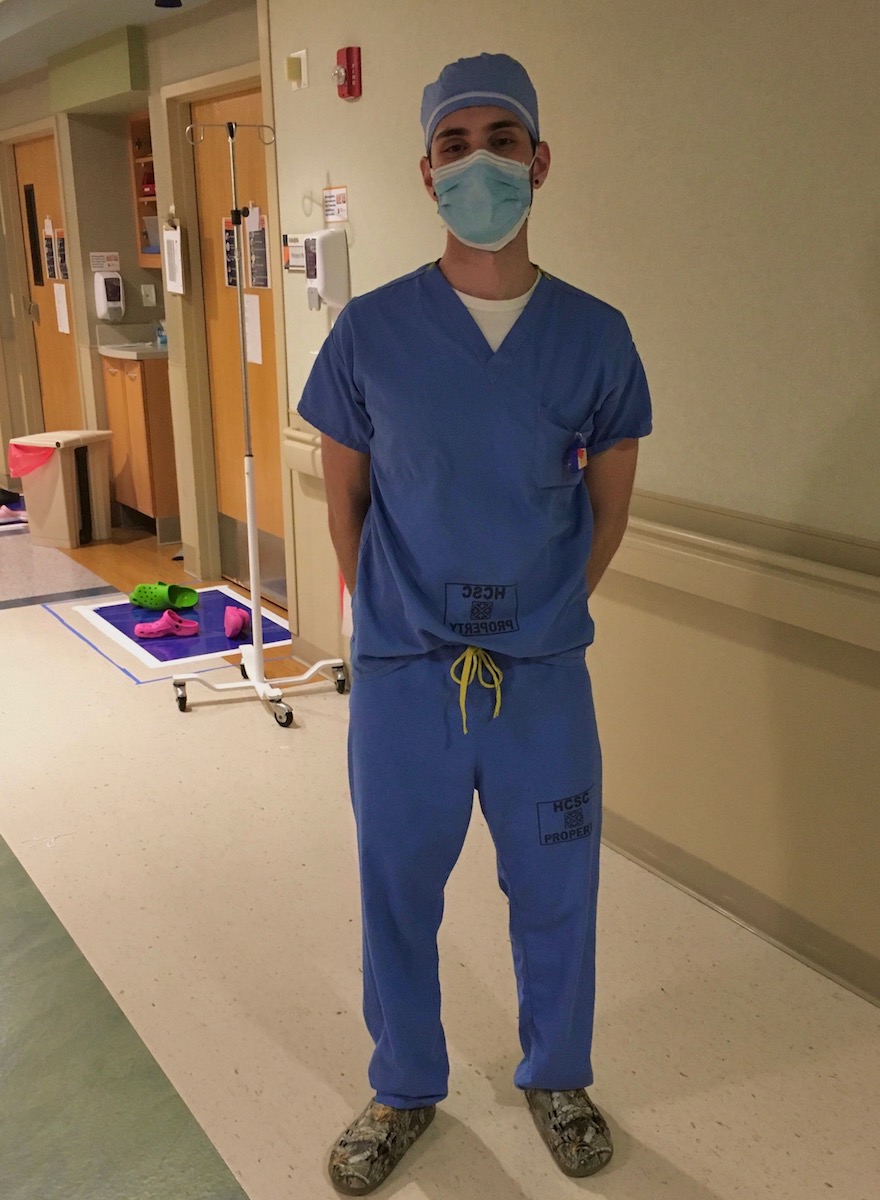 With elective surgeries cancelled in response to the COVID-19 pandemic, Pearce was among the many operating room staff members who were redeployed to other departments to care for COVID-19 patients as they recover.
Pearce also chose to work part of his time at the Mt. Kemble Atlantic Rehabilitation Institute, a palliative care facility recently re-opened amid COVID-19.
"As a result of COVID-19, hospitals are no longer allowing visitors, so their loved ones are dying alone," he said.
"I lost my grandfather in December, and we'd brought him home with hospice. I was fortunate enough to be with him every day for the last few weeks of his life. So, when I heard about the opportunity to work at Mt. Kemble, I felt an immediate urge to accept the position. It was my way of paying it forward to other families who are not able to be with their loved ones as they pass."
"At both MMC and Mt. Kemble, I've been truly amazed by the love and support the staff have shown each other during this difficult time," he said.
In addition to his work with MMC and Mt. Kemble, Pearce has also taken major steps in his career and was recently accepted to the NYU Rory Meyers College of Nursing. His post-NYU plans include pursuing an MS in Psychiatric Mental Health.
"I intend to split my time between working as a nurse in the emergency room and a psychiatric clinic in New York City," he said. 
The move from Drew will be bittersweet for Pearce, who has been actively involved with civic work and community service since his first year as an undergraduate.
Even after graduating, Pearce stayed in The Forest as Drew's AmeriCorps Changebuilder coordinator.
"In many ways, this position has allowed my love of volunteering to come full circle at Drew as many of my best memories as an undergraduate happened while volunteering," he said.
"This past year I have been able to help create similar opportunities and memories for the current Drew students. I will miss this position and the students greatly next year but look forward to the next step in my career."