Leading the community of scholars, ministers, and activists
January 2021 – The Rev. Dr. Melanie Johnson-DeBaufre has been appointed to the role of interim dean of Drew Theological School. She succeeds the Rev. Dr. Javier Viera, who departed Drew to become president of Garrett-Evangelical Theological Seminary.
"The work of the Theological School is vital in Drew's shared mission to add to the world's good—promoting peace, faith and understanding—especially during these turbulent times," said Provost Jessica Lakin. "A leading feminist scholar and a strong advocate for racial, economic and environmental justice, Melanie is well suited to lead the Theological School as it prepares and empowers religious leaders to meet the many challenges of social repair and transformation."
The Theological School welcomed its largest incoming class in over a decade during the fall 2020 semester, an accomplishment directly achieved by Johnson-DeBaufre and her dedicated faculty and staff. While the United Methodist Church continues to chart an uncertain future, Drew saw a 30% increase in United Methodist students studying at the Theological School, which has been a leader in seeking inclusive and visionary ways forward for Wesleyan-Methodism.
In the middle of a global pandemic, the Theological School was well prepared to pivot seamlessly to remote and asynchronous learning for all students. Building on its wide-reaching curriculum transformation, which launched new vocationally-relevant and flexible programs in 2018, the school had the pedagogical and technological resources in place to welcome students remotely, both near and far. Over 40% of the incoming class are international students.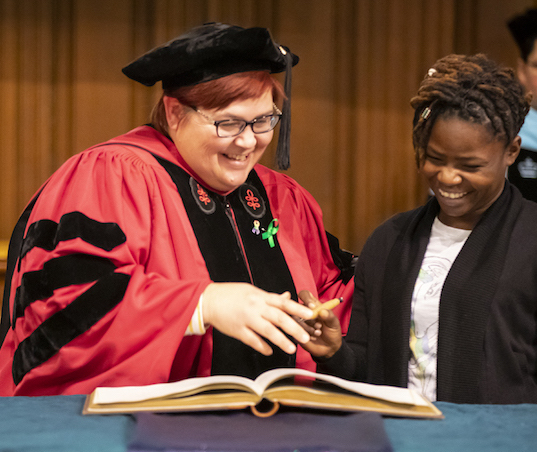 Johnson-DeBaufree joined the Drew faculty in 2005 as a professor of New Testament and early Christianity, and became the associate dean of the Theological School in 2015—the same year she was awarded the distinction of Teacher/Scholar of the Year at the Theo School. She has been a leader for the Theological School's signature prison education and cross-cultural travel programs. As the associate dean for graduate studies, she provided critical leadership to increase support for all Drew graduate students and foster academic collaboration between the Theological School and the Caspersen School of Graduate Studies. 
Johnson-DeBaufre earned her bachelor degree from Eastern College, a Master of Divinity and a ThD from Harvard Divinity School and is ordained in the American Baptist Churches, USA. She is the author of Jesus Among Her Children: Q, Eschatology, and the Construction of Christian Origins and Mary Magdalene Understood and has published numerous articles and essays about the politics and ethics of Christian beginnings.
THE LATEST AT DREW THEOLOGICAL SCHOOL