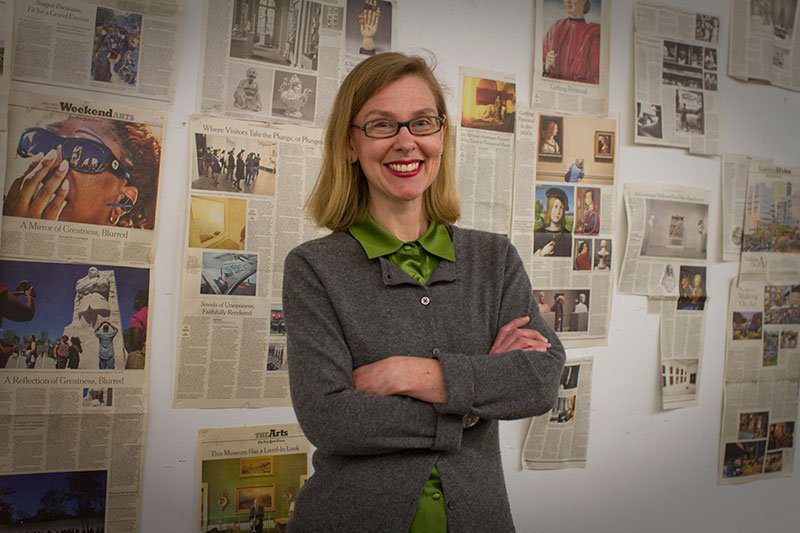 FACULTY
Kimberly Rhodes
Kimberly Rhodes writes and teaches about modern and contemporary visual culture and has worked as an art historian in both museum and academic settings. Her research is on Victorian and neo-Victorian art, with a focus on gender and Shakespeare studies. She has published on representations of Ophelia in the nineteenth century and contemporary art and Victorian themes in contemporary feminist art, among other topics.
She has an M.A. and a PhD in art history from Columbia University. At Drew, she teaches the New York Semester on Contemporary Art and courses on modern and contemporary European and American art. Prof. Rhodes also serves as Co-Director of the Andrew W. Mellon Arts and the Common Good Grant, Director of Specialized Honors and Associate Director of the Baldwin Honors Program. She can be reached at krhodes@drew.edu.
Recent Publications
"Archetypes and Icons: Materialising Victorian Womanhood in 1970s Feminist Art" in Neo-Victorian Studies, Volume 6, no. 2 (2013), pp. 152-180
"Double Take: Tom Hunter's The Way Home (2000)," in Kaara Peterson and Deanne Williams, eds. The Afterlife of Ophelia. Hampshire and New York: Palgrave Macmillan, 2012, pp. 213-229.
Ophelia and Victorian Visual Culture: Representing Body Politics in the Nineteenth Century. Aldershot and Burlington: Ashgate Publishing, May 2008.
"Degenerate Detail: John Everett Millais and Ophelia's Muddy Death," in Debra N. Mancoff, ed. John Everett Millais: Beyond the Pre-Raphaelite Brotherhood. London and New Haven: Paul Mellon Centre/Yale University Press, 2001, pp. 43-68.
FACULTY
Margaret Kuntz
Margaret Kuntz, Professor of Art History, is a specialist in Italian Renaissance and Baroque painting, sculpture and architecture. At Drew she teaches a variety of courses, including Renaissance Art and Architecture, European Baroque Art and Architecture and the history of architecture.
Her scholarly research concerns the decoration and ceremonial functions of the Vatican Palace and St. Peter's Basilica and the late work of Michelangelo. She is a recipient of the Rome Prize of the American Academy in Rome and a past Kress Fellow of the Bibliotheca Hertziana (Max-Planck-Institut), Rome.
Her M.A. in art history is from Rutgers University and her Ph.D. is from The Institute of Fine Arts, New York University.
Recent Publications
"Michelangelo the 'Lefty': The Cappella Paolina, the Expulsion Drawings and Marcello Venusti," in Michelangelo in the New Millennium. Conversations About Artistic Practice, Patronage and Christianity, ed. Tamara Smithers, series editor Walter Melion, Brill Studies on Arts, Art History and Intellectual History, vol. 14, 2016, pp. 179-209.
"Celebrating the Surrender of La Rochelle in Rome: Urban VIII, The French National Churches and Bernini's Barcaccia Fountain," in La Chiesa e il convento della Trinità dei Monti. Ricerche, Nuove letture, Restauri, eds. Colette Di Matteo and Sebastiano Roberto, De Luca Editori D'Arte, 2016, pp. 57-67.
"Questions of Identity: The Temporary Facade at Palazzo Farnese for Queen Christina of Sweden," Memoirs of the American Academy in Rome (MAAR), vol. 58, 2013, pp. 143-179.
"Mimesis, Ceremony, Praxis: Gregory XIII and the Cappella Paolina," Memoirs of the American Academy in Rome, 2009, pp. 61-81 (appeared 2010, backdated to 2009)
FACULTY
Marguerite Keane
Marguerite Keane is a specialist in medieval art. Her research is on the material culture of the fourteenth century in France, with particular focus on manuscript painting, ideology and gender studies. She has published on fourteenth-century French manuscript painting, on the object collection of the French queen Blanche of Navarre (c. 1331-1398) and on the tomb chapel of Blanche of Navarre at Saint-Denis. Her current project is a book-length study of the patronage of Blanche of Navarre.
She has an M.A. in art history from Williams College, and her doctorate in art history was earned at the University of California, Santa Barbara. At Drew she teaches medieval, Islamic and classical art. She can be reached at mkeane@drew.edu.
Recent Publications
Material Culture and queenship in fourteenth-century France: The Testament of Blanche of Navarre (1331-1398) (Leiden: Brill, 2016)
"Memory and identity in the chapel of Blanche of Navarre at Saint-Denis," in Citation, Intertextuality and Memory in the Middle Ages and Renaissance vol 2: Cross-Disciplinary Perspectives on Medieval Culture, eds. Yolanda Plumley and Giuliano di Bacco, Liverpool, 2013, 123-136.
"Collaboration in the Hours of Jeanne de Navarre," in Jean Pucelle: Innovation and Collaboration in Manuscript Painting, eds. Anna Russakoff and Kyunghee Pyun, Turnhout, 2013, 131-148.
"Most beautiful and next best: value in the collection of a medieval queen," Journal of Medieval History 34 (December 2008): 360-73.
"Louis IX, Louis X, Louis of Navarre: Family Ties and Political Ideology in the Hours of Jeanne of Navarre," Visual Resources XX (March 2004).
San Solu, Visual Resources Curator
San Solu curates the visual resources for the art history department, which hosts an ever-growing slide library containing thousands of images of art and architecture across numerous historical cultures. As an art historian, his work focuses on the art and architecture of the ancient world, with specialties in images of women and Middle Egyptian hieroglyphs. San teaches art history at local colleges and spends his summers curating art and archaeological exhibits for the Ministry of Culture in Turkey.
Sara Lynn Henry, Professor Emerita
Sara Lynn Henry is Professor of Art History, Emerita, and N.E.H. Distinguished Teaching Professor of Humanities, Emerita. She taught 19th and 20th century art history courses and seminars, Drew's New York Semester on Contemporary Art, Museum Studies and a First-Year Seminar on Psychology and Art East and West (Freud, Jung and Tibetan Buddhism). As Director of Humanities she dialogued with colleagues in team-taught courses about Classical, Medieval, Renaissance/Baroque, Modern, African and Asian topics. Currently she is an independent curator and art writer concerned with art, nature and science matters; also with the contemporary East-West aesthetic dialogue. As a scholar she has published extensively on Paul Klee.
SELECTED CURATED EXHIBITIONS AND PUBLICATIONS
I am the Cosmos, curated exhibition, New Jersey State Museum, Trenton, N.J., Dec. 4, 2010-May 29, 2011.
"Paul Klee's Biocentrisim: The Wages of Scientific Curiosity," in Modernism and Biocentricism, Oliver Botar and Isabel Wuensch, editors; UK: Ashgate Publishing, 2010.
"Order and Disorder in the Art of Samuel Bak," essay in catalogue for the exhibition The Art of the Question: Paintings by Samuel Bak, Elizabeth Korn Gallery, Drew University, Madison, New Jersey, Oct. 9-Nov. 24, 2009.
"Grace Bakst Wapner's Core Aesthetic," essay for catalogue, Grace Bakst Wapner, exhibition, Kleinert,Woodstock, N.Y., Aug., 2009.
"Joel Sokolov: Big Island Drawings," essay for exhibition catalogue, Kentler International Drawing Center, Red Hook, NY, Feb. 6- March 22, 2009.
"Grace Wapner, Scholar's Garden: An East-West Aesthetic Dialogue," Hyperion, Volume III, issue 4, October 2008. Online journal published by the Nietzsche Circle.
"Suejin Jo's Cosmic Animism," July 2008 essay for catalogue Suejin Jo, Lawrence Award 2008, New York Equity Association, 2008.
Midnight Full of Stars, Visual Arts Center of New Jersey, Summit, April 11-June 6, 2008. Curator and catalogue essay. Artists David Ambrose, Dozier Bell, Natvar Bhavsaar, Charlotte Cain, Amy Cheng, Theresa Chong, Kwang-Young Chung, Carter Hodgkin, Joyce Kozloff, Ati Maier, Judy Pfaff, Hiroshi Senju, Barbara Takenaga, Fred Tomaselli, Sarah Walker and Daniel Zeller.
Hsu Dan, Chinese Ink & Watercolors, Korn Gallery, Drew University, Madison, N.J., April 2005.
From Natural to Techno Universes: Our Brave New Worlds, curator and catalogue essay for exhibition. Dorsky Gallery Curatorial Projects, Long Island City, Queens, February5-April 18, 2005. Artists Amy Cheng, David Collin, Torben Giehler, Jung Hyang Kim, Yayoi Kusama, Ellen Levy,Barbara Takenaga and Mark Tobey.
As if Alive: Animate Sculpture, Curator and catalogue essay. Artists Deborah Aschheim, Elissa D'Arrigo, John Duff, Sandra Hirshkowitz, Bryan Hunt, Tamiko Kawata, David Nash, Jack Pospisil, Phyllis Rosser, Ilene Sunshine, James Surls, Grace Wapner. New Jersey Center for the Visual Arts, Summit, NJ, September 10-October 29, 2000.
"Robert Kushner: The Asian Connection," catalogue essay for the exhibition Robert Kushner: 25 Years of Making Art, New Jersey Center for Visual Arts, Summit, NJ, Spring 1998.
"Asian American Women in the New World: Nature and Abstraction," essay for exhibition of the Asian American Women's Alliance, New World Art Center, NY, Fall 1998.
Ellen K. Levy:`Disorder and Early Sorrow,' Korn Gallery, Drew University, Madison, NJ, September 21-October 15,1993; American Association for the Advancement of Science, December 2, 1993-March 5, 1994; and Galerie Wild, Frankfurt, Germany. Curator and catalogue with essay.
"From Physics to the Picture Plane: Paul Klee's Pictorial Mechanics,"Pantheon: Internationale Jahreszeitschrift für Kunst (Munich), Jahrgang, XLVII, 1989, pp. 147-165
"An East-West Dialogue: Japanese Calligraphy and Contemporary Abstract Art," Shodo Journal (Tokyo), 19, 1989 (in Japanese), pp. 84-87