The series resumes in-person with the award-winning author of
You Never Get It Back
October 2022 – Drew University's Writers@Drew welcomed Cara Blue Adams, author of You Never Get it Back, an interlinked short story collection.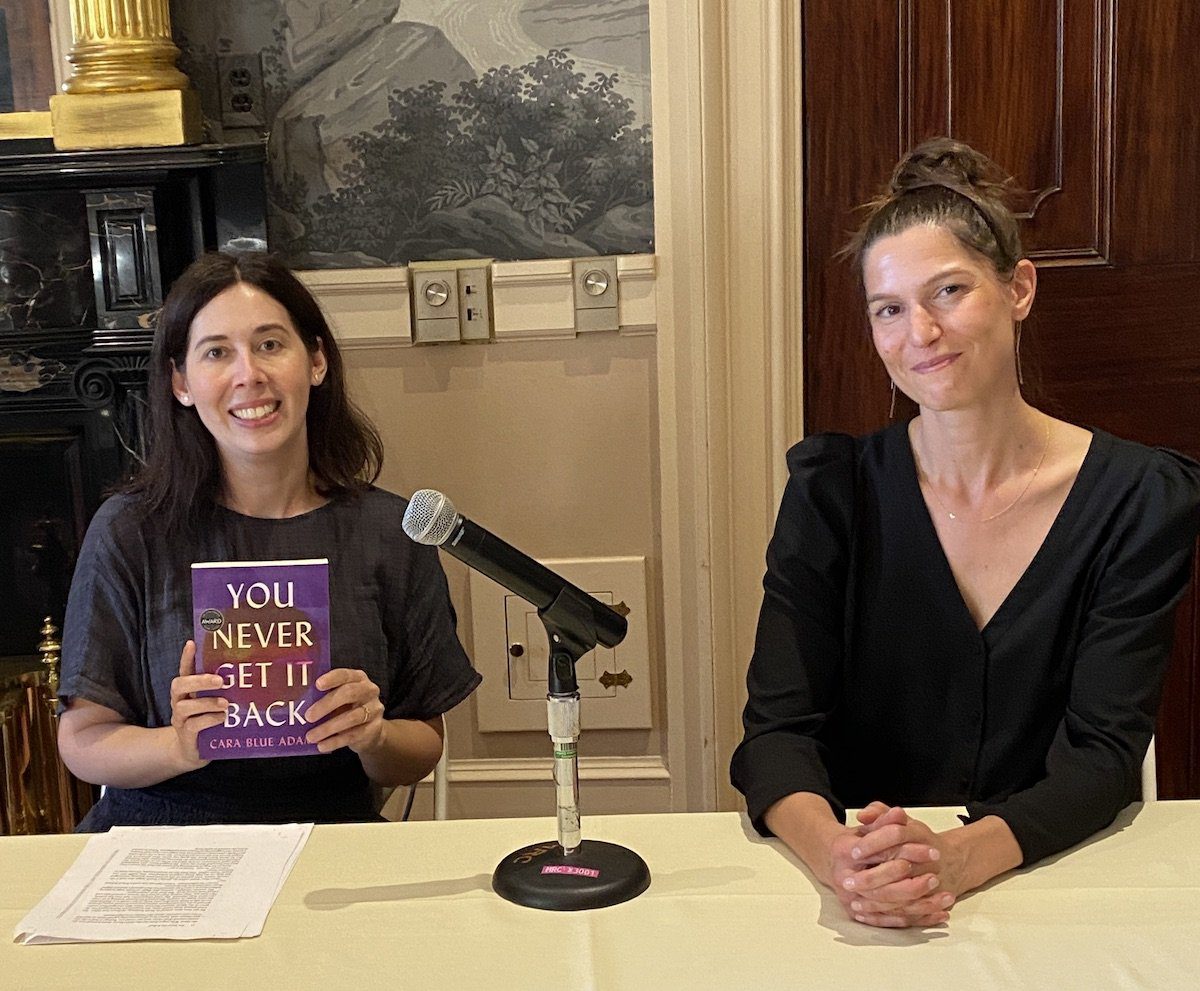 The event was the first in-person Writers@Drew since February 2020, when the series pivoted to a virtual format due to the COVID-19 pandemic.
You Never Get it Back was named a New York Times Editor's Choice and received the John Simmons Short Fiction Award.
Adams, the recipient of countless awards for her work, read an excerpt from one of the stories in her collection, hailed "a modern classic" by American writer Brandon Taylor.
Courtney Zoffness, assistant professor of English and director of Drew's creative writing program, asked Adams why she chose an interlinked story collection.
"My personal motto is 'why do it when you can overdo it?' What I love about this story form is that it can really invoke a distilled narrative that can encompass as much as a novel, but in just 20-30 pages," said Adams.
"A novel's whole job is to pull you right through to the end," she said. "A story collection says 'it's time to take a breath; you can put me down.' You can get a lot of variety. You can give the reader some time to meditate on what they've been through."
A student asked if Adams has ever based characters on herself or her experiences.
"I definitely draw from my own life and observations when I create my characters," responded Adams. "Any writer draws on their own life experiences in some way. Being alive to the world and your own experiences is really important."
Another student asked how Adams works exposition into her story telling.
"Exposition can be so tricky … and dull for some readers if not done well," she confessed. "We're often told 'show, don't tell.'" 
"When writing exposition, it is helpful to try to be as vivid, funny, specific, and interesting as you can possibly be," she said. "I try to figure out what a reader really needs to know and just get rid of any exposition they don't need to know."
Both Zoffness and a student asked about Adams' career path and her prior experience as an editor.
Adams shared that there is no defined path to becoming a writer. "I've had such a strange career path—I hope it may be encouraging for anyone who may not be totally sure what your path is going to look like after college or beyond. You can't always know where your path is going to lead."
While earning her MFA from the University of Arizona, she came to realize that she loved fiction writing. "It is endlessly fascinating. It is not something you can ever solve—and it is endlessly difficult. No story is like any other story; no book is like any other book."
She spent five years as an editor for a literary magazine, but found it difficult to find time for her own writing. "There were always more new writers I could be discovering. Editing, like writing, is a passion." 
"Doing that work helped me with my own work," she said. "It helped me be honest with myself. You tend to be hypercritical as an editor, you do find interference with that."
Adams advised the audience of students, faculty, and staff to gain experience wherever possible. "People will believe that you can do something if you have done it in the past."
In addition to being a published author, Adams is an associate professor of English at Seton Hall University. "Being a professor gives me the summers to focus on writing and it gives me a nice community of people to talk about my ideas."
Writers@Drew events are co-sponsored by The Casement Fund and the English Department and are always free.
NEWS FROM DREW UNIVERSITY