Gabby Ramirez C'23 creates collection of books for need-based students
February 2022 – Gabby Ramirez C'23 seized an opportunity in Drew University's Student Government to address a need for accessible textbooks.
After being elected as a Senator at Large, Ramirez put her idea into action by holding a textbook donation drive at the end of the fall 2020 semester. She has done the same thing every semester since, adding the collected books—now totaling more than 150—to the Textbook Lending Library, housed in the University Library.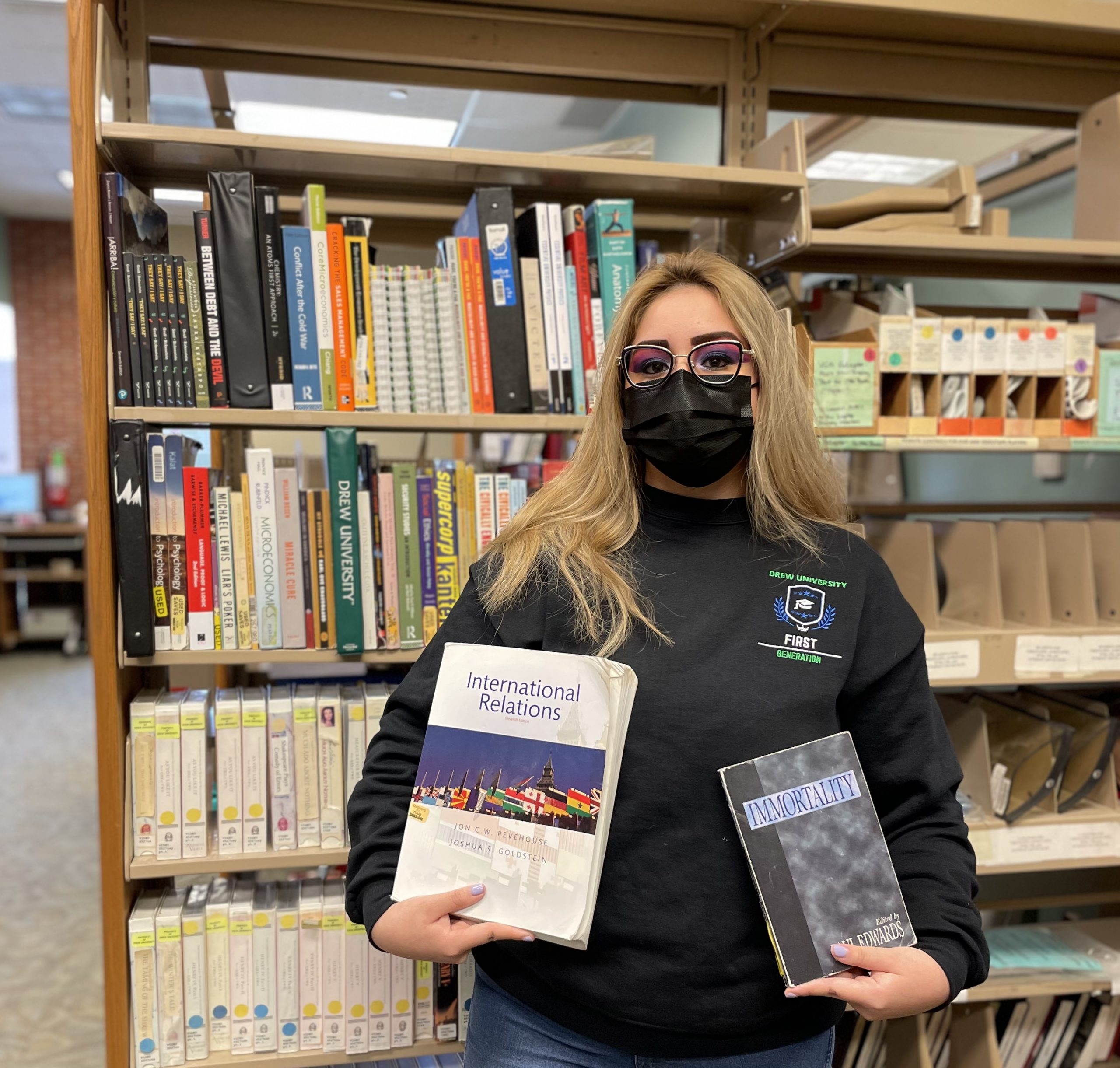 Ramirez, a political science major and sociology minor, said the long-term goals of the lending library, which is available to need-based students according to financial aid designations, are three-fold.
"We want to alleviate constraints for students and families struggling financially; create a philanthropic environment by encouraging students to donate their textbooks rather than selling them; and find more affordable textbook options for students by working with faculty," she explained.
The lending library, supervised by the Student Government, has been going for three semesters and has received additional support beyond student donations.
In spring 2021, the project received $4,000 in funding that spans five semesters through spring 2023. The funding, part of a state-awarded Opportunity Meets Innovation Challenge (OMIC) Grant submitted by Frank Merckx, vice president of enrollment management and campus life, has and will continue to help the lending library acquire used textbooks, specifically in the STEM fields.
"It is in part because of these efforts that need-based students feel comfortable enrolling in a diverse course load, knowing they have access to these textbooks," said Ramirez.
Ramirez considers Lauren Levinson, head of access services, her partner in the lending library operation. Levinson oversees the library's stock, ensures the books are reserved for eligible students, and proposes specific books to be purchased with the grant funding.
Next up for Ramirez, who will graduate a semester early in December 2022, is working with Drew's Center for Civic Engagement to make the initiative sustainable beyond her time at Drew.
"My goal is to ensure that the lending library is recognized as a permanent campus resource, and I hope to better inform students and faculty about not just what the library is for functionally, but its far-reaching importance as well," she said.
Ramirez has been doing this work on campus while concurrently interning with the office of U.S. Senator Cory Booker where she has broadened her understanding of being an agent of meaningful change.
"I plan on pursuing a career after either grad or law school focused on policy and advocacy work serving historically underserved communities," she said.
"In addition to my time at Drew, my internship with Senator Booker has helped me learn how to be a changemaker, whether it's at a university or in the federal government."