What is the Young Alumni Association?
If you graduated in the last ten years, it's for you! You're automatically part of the Drew Young Alumni Association (DYAA). The focus of the group is to:
create programs that interest you, including networking opportunities, social meet-ups, and educational events
keep you connected with Drew and with each other through communications and events
offer programs to support your professional and personal development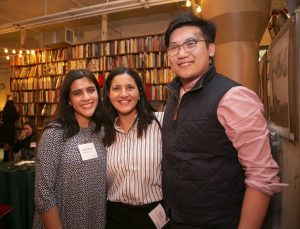 Get Involved!
There are many ways to be engaged with Drew that cater to your interest! The DYAA Committee has developed several opportunities to get involved. Below you'll find our subcommittees & their descriptions. To express interest in joining any of the subcommittees–or to connect with the chairs of the subcommittees, click here. Of course, you can also email us at dyaa@drew.edu. 
CAREERS
Chair: Jonathan Van Dongen C'17
The purpose of the DYAA's Careers Subcommittee is to identify and facilitate professional and career development opportunities for young alumni and students. You may elect to pursue subcommittee membership, affirming a commitment to improving Drew's career-related opportunities, but all meetings are open to young alumni. As a subcommittee member, you will have the opportunity to make a difference in the Drew community by: creating and/or supporting professional development opportunities for students and young alumni; providing input on Drew's career development strategies in partnership with staff & faculty; and connecting with students & young alumni seeking opportunities for their own professional advancement. This subcommittee will work closely with campus stakeholders to maximize opportunities for engagement. You may be a great fit for this subcommittee if you are interested in networking, are experienced with facilitating professional development programs, or are excited about improving career outcomes for Drew's graduates.
COMMUNICATIONS
Chair: Gabi Bisconti C'16
The purpose of DYAA's Communications Subcommittee is to share the important work that the DYAA is doing. As a member of our subcommittee, you will be actively involved in planning, creating, and distributing content. We specifically are looking for creative people, with creative ideas. Some ideas we have batted around include a quarterly newsletter and a podcast, but we're all ears!
CURRENT STUDENT/FIRST-YEAR OUT ENGAGEMENT
Chair: Ellen R. Handerhan C'21
The purpose of the DYAA's Student/First Year Out Engagement Committee is to facilitate the transition from student to alumni. You will be actively involved in planning and participating in events/activities related to building alumni community, connecting with student groups and organizations, and fostering excitement surrounding the DYAA as students graduate and join our community. People who would be good fits for this subcommittee will have experience or interest in event planning, networking, and connecting with people from different generations.
PROGRAMMING
Chair: Olivia Sznaza C'19
The goal of the Subcommittee is to foster, build, and maintain connections throughout various corners of the Drewniverse via robust and vibrant programming. The subcommittee will aim to hold at least one event per quarter; hold at least one brainstorming meeting every two months; and hold event planning meetings as necessary to ensure successful event outcomes.