The couple share memories and offer advice to students
November 2023 – For Cris and Doug C'58 Lonnstrom, Drew University is more than a school Doug attended nearly 70 years ago. It's a place that helped Doug formulate a career path in education, fostered his love for baseball, and created life-long friendships and fond memories for them both.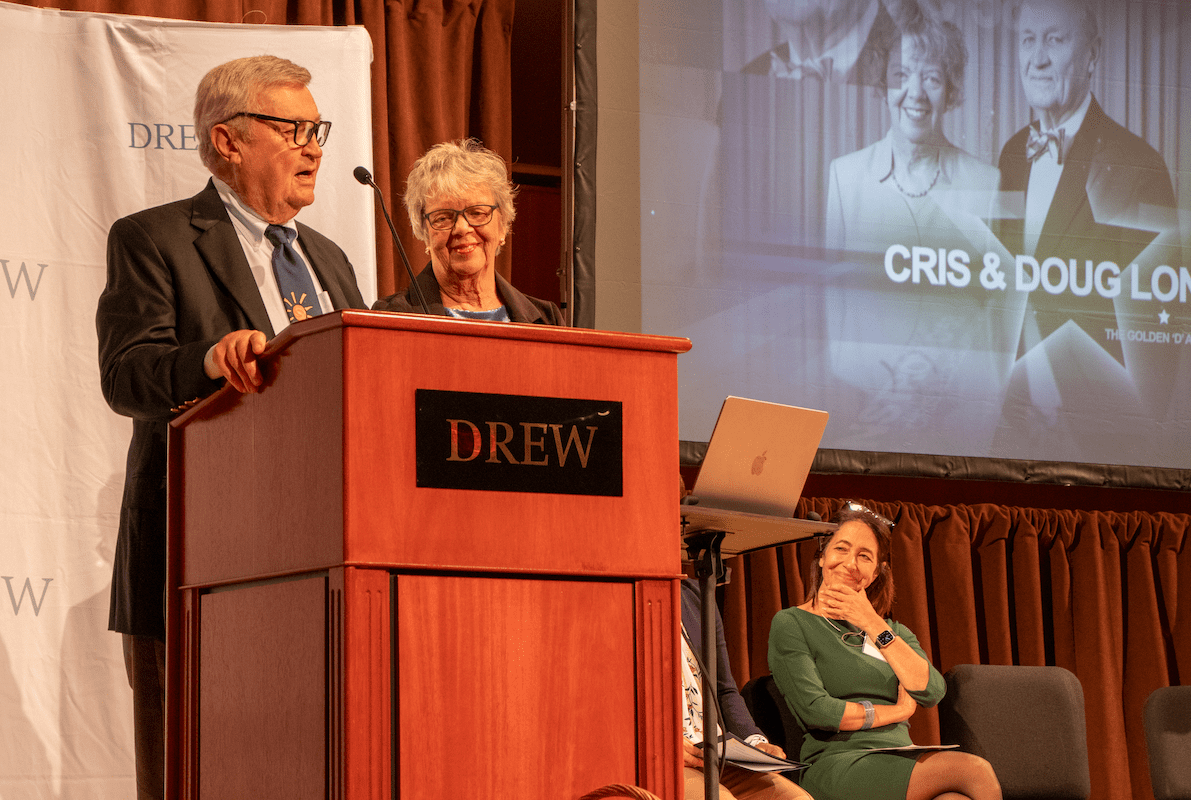 The couple recently pledged their support to the future of Drew Athletics with a generous seven-figure planned gift—the largest endowed gift to Athletics in Drew's history. The gift will support the Rangers baseball program and student-athletes for generations to come.
In recognition of this generous gift, the Drew baseball stadium will be named in honor of the Lonnstroms. "I went to Drew in 1954, unknown to the baseball team," said Doug. "If you said to me that 70 years later they were going to name the stadium after me, I could never have dreamed of such a thing. I'm overwhelmed. It's a great honor to know that the students will benefit for years to come."
Doug grew up at Drew in many ways. Coming from a small, rural town outside of Albany, New York, he skipped kindergarten and graduated from high school when he was only 16 years old. "I was two years younger than everyone else. The time at Drew was formative for me, transitioning from a kid to an adult."
Doug found his passion for baseball in high school. After being too small to make the team as a freshman, a six inch growth spurt helped secure his spot as a starter on the team as a high school sophomore.
He continued to play baseball throughout his four years at Drew. "I loved baseball," he said. "Drew did not recruit me, they did not know about me. I walked on during fall practice, and became a starter. I played the outfield and pitched."
"When I go back to Drew, I always walk out on the baseball field because I have such great  memories," he said. "A lot of good things happened to me there."
Doug learned about Drew from a prominent physician in the Albany area who was a Drew alum. His high school guidance counselor also thought very highly of Drew. "It had a great academic reputation—even back then," he said.
After applying and being accepted into five schools, including Harvard University, Doug knew Drew was a good fit when he first walked on campus for a visit. "I knew this was the place for me," he said. "I loved it. Drew was a wonderful four years of my life, I have zero regrets."
"I loved dorm life, it was unlike anything I had experienced, especially coming from such a small town. I made a lot of friends."
Now retired, the Lonnstroms were both educators—Cris an elementary school teacher for 38 years, and Doug a professor in the Business School at Siena College for nearly 50 years. During this time, he also served as dean of the Business School, head of the Quantitative Business Department, and co-founded the Siena College Research Institute. For Doug, this was a career pathway that was sparked during a student assistant program he was chosen for during his junior year at Drew.
"Typically, professors picked seniors, but I was chosen as a junior," recalled Doug. "I was a math major and the head of the department liked me. If my professor was out of town, I taught first-year math classes. That's how I got started in teaching, I just loved it. That was my real introduction to that side of the teaching profession."
"I never really thought of becoming a teacher, that was not a life-long goal of mine, but at a certain point of my life it was chosen for me," said Cris, who at the time was a part of the Daughters of Charity religious community. "I became an elementary school teacher. Because of the poverty in the area, there were a lot of learning issues, so I decided to get my master's degree in learning disabilities. It helped me to work better with the children and parents. I loved it."
Doug also pursued his master's from Siena College, and was offered an adjunct professor position, teaching math—the stepping stone towards his future 50-year career at the institution. "It was the highlight of my day. I would work during the day at my regular job and teach two nights a week."
"During my career at Siena, I've probably influenced over ten thousand students, and I was in the business world for over twenty years and successful financially," said Doug. "But something was always missing. I always had this inner part of me that wants to do something good for society and I get that sense of meaning in life from teaching."
Cris and Doug try to return to campus as often as they can. "I'm happy to go back with Doug because of how much he loves it, so that's a real joy for me too," said Cris. "We now have friends together from Drew."
"It brings back fond memories," said Doug. "I'll go and look at my first-year dorm, Baldwin Hall. There's so many new things at Drew right now, Drew has really grown and has tremendous facilities."
Doug offered three important points of life advice for Drew students:
Get a career, not a job. "I never felt like I was going to work for the 50 years I taught at Siena," he said. "I never regretted Monday morning, and I still miss it."
Get a great mate. "It's been a wonderful marriage and I was lucky to meet Cris," said Doug. The Lonnstroms met at a ski club meeting and still cross country ski together.
Get a dog.
Noted! Thank you, Cris and Doug, for your perspectives and memories—and your generous gift that will help future Drew students carry out their own lifelong memories.