What Our Alumni Are Saying
Maria Fruci
As a first generation Italian-American, I knew that Italian would be a part of my college career, but never could I have imagined the immense impact it would ultimately have. During my first two years at Drew I spent much time improving my Italian language skills, but knew that there had to be something more I could do. With the help of Professor Occhipinti, we developed a special major for Italian Studies which was finalized during my Junior year. I spent two summers studying at Istituto Venezia  through Drew's study abroad programs, where I immersed myself in the amazing language, culture and people of my parents' home country through various courses and excursions. Because of these wonderful opportunities Drew and Professor Occhipinti provided me, I was able to perfect my language skills – something that has proven invaluable in my career. After I graduated from Drew in 2008, I attended Seton Hall School of Law, where I graduated in 2011 and subsequently clerked for the Honorable Garry J. Furnari in the Superior Court of New Jersey. Following my clerkship, I accepted an associate position with the firm of Genova Burns Giantomasi Webster LLC where my Italian skills were a highlight on my resume given the numerous Italian clients the firm was gaining. During my time at the firm, my ability to easily converse in Italian has been instrumental in strengthening the firm's relationship with many clients and colleagues. This unique skill has made me valuable to the firm, allowed me to stand apart from my colleagues and provided me with many rare opportunities very early in my career.
Frank Sedita
When I first arrived at Drew University, I was overwhelmed by the vast menu of courses that I could choose from. However, having previously studied Italian in high school and having personal connections with the culture, I did not hesitate when including Italian on my schedule. Looking back at this decision, I can honestly say that this was one of the best academic choices that I ever made. Choosing to study Italian at Drew provided me with the unique opportunity to study abroad on three occasions in Venice, as well as to design and pursue my own special major in Italian language and culture; all while allowing me to intimately explore and reflect upon a vital part of my heritage as an Italian-American. Drew's study abroad option in Venice, coupled with the Italian department's extremely knowledgeable and helpful faculty and array of intriguing courses, ranging in everything from cinema to literature, made my academic growth and deeper appreciation for the Italian language and culture feasible. I also found that studying Italian complimented my simultaneous study of sociology; an interdisciplinary experience that culminated in my composition of an honors thesis during my senior year. These rich experiences have today equipped me with a unique perspective from which to explore, and now teach, a foreign language and culture in a society defined by unprecedented globalization. Immediately following my time as an undergraduate at Drew, I was able to remain a student within the Italian department, as I pursued a Masters in Teaching Italian. This highly personalized experience not only facilitated my further knowledge of the language and culture, but also provided me with vital Twenty-first century pedagogical skills. As a teacher of Italian at the secondary level, I find myself constantly reflecting upon and incorporating these experiences on a daily basis. Overall, I truly believe that studying Italian at Drew made me both a stronger student, as well as person; something I now wish to instill within my own students.
Toni Anne Corsi
I have always had a passion for learning about the Italian language and culture, and at Drew I was able to fully indulge my love of it.  Not only did I minor in Italian, but my participation in Drew's Language and Culture in Venice, Italy Program for two summers were unforgettable experiences that allowed me to pursue my aspirations of becoming fluent in Italian and afforded me the opportunity to meet my relatives in Italy for the first time. I also served on the executive board of the Cultural Italian American Organization (CIAO) at Drew, during which I coordinated activities to spread awareness of Italian culture. However, it was the guidance and support from the professors in the Italian Department at Drew that shaped my career. These educators were instrumental in my growing interest of learning Italian and desire to explore deeper into the culture, and they allowed me to understand it on a deep level.  They made the learning environment unique and utilized unconventional teaching methods that inspired me to both learn and teach. I therefore pursued and earned an M.A.T. in Italian at Drew and now teach middle school Italian. I also coach a group of 6th, 7th, and 8th grade students who compete annually at the Italian Language & Culture Competition at Montclair State University. I use Italian every day on both a professional and personal level. I would encourage all students with an interest in Italian to pursue the minor or special major at Drew!
Raymond Schmelzer
From an early age I knew that I wanted to study foreign languages and cultures. I wanted to travel, study and live abroad, and with the wide selection of foreign languages offered by Drew, I knew that it would be a perfect fit. I began my first semester studying Italian and rapidly became more and more involved with Italian, by joining the Italian Club (C.I.A.O.) and by developing interests in Italian literature, cinema and culture thanks to the wide range of courses offered by the Italian Department. As my passion for Italian grew, fostered by the friendly and knowledgeable Faculty members of the Italian Department, it rapidly became evident that a minor in Italian would not suffice. With the help of Professor Occhipinti I was able to incorporate courses from various other departments (such as history, religious studies, art history and literature) to make a special major in Italian Language & Culture. Thanks to the wide range of courses offered at Drew, and to the fact that so many aspects of Western culture are indebted to Italy and Italian culture, I had a wide range of options to choose from. My time at Drew was truly life-changing, and I cannot overstate the impact that my studies with the Italian Department have had on my experiences. With a firm foundation in the language and knowledge of the culture, I was able to take full advantage of my time studying abroad in Florence, and was able to experience Italy in ways that many of my classmates could not. I decided to return to Florence and, employing the skills I developed at Drew, I was able to return there, earning an MA in Italian from Middlebury College and finding a wonderful job in study abroad shortly thereafter. From time to time, I am also able to find extra work as a translator, as there is a large demand for Italian to English translations in academia and other sectors. Despite the challenges of finding work as a foreigner during a time of high unemployment, thanks to my preparation at Drew I was able to overcome those challenges and achieve my dream of living abroad. Today I currently live and work in Florence, Italy, where I use the language skills I developed at Drew every day, both at work and in my personal life. I couldn't be happier!
Peter Ferrari
I graduated in 2009 with a major in economics and a minor in Italian. While attending Drew, I studied for four weeks and obtained eight credits in Venice, Italy during the 2008 summer program. After graduating, I became a Senior Registered Representative at FOREX.com and was the only Italian-speaking representative. Thereafter, I had decided I needed a change of pace and worked on the San Polino vineyard in the Montalcino region of Tuscany, Italy for three months. My passion for the Italian language, culture, and country grew even further. Life turned a new page for me with my decision to go back to school for an MBA. Through the University of Iowa, I obtained my MBA in one year as part of the CIMBA program based in Asolo, Italy.
Adriana Durso
Growing up, I knew my family was a little bit different. I had relatives who didn't speak English, a mother with an accent, and was the only person I knew who had to attend huge family parties every Sunday. But I loved that my mom was bilingual and that she cooked the best pasta in town and I knew that when I got older, I wanted to learn everything about this amazing culture that I was born into. I began taking Italian in high school and was elated to see that I could continue Italian at Drew University. During my sophomore year, I decided to create a special major in Italian Studies which afforded me the opportunity to not only study Italian but learn about the history and politics of the country and its neighboring European nations. While taking classes for my major, I encountered amazing Italian professors who furthered my communicative skills. And during my junior year, I embarked on what would become one of the most memorable and amazing times of my life — a semester abroad in Rome. During that time, I not only got to explore the eternal city but I was able to live as a true Roman and begin to understand my heritage even more. A couple years after graduating from Drew, I returned to receive my Master's in Teaching for Italian. I entered the one-year program and realized that my Italian education was far from over. Working every week with Professor Occhipinti, I saw my conversational skills and grasp of the language expand with each day. He took my language skills to a level that I didn't know was possible. And thanks to his help and guidance throughout that year, I graduated with a job as a high school Italian Teacher. Currently in my first year, I am teaching Italian 1 and 2 and I frequently look back at my educational experiences at Drew and feel very grateful. For without those experiences, I would not be in the place that I am today — a happy and successful Italian teacher!
 Aliya Weinstein
At a very young age, I knew I had a passion for music and singing. As this passion was further established, I began expanding my vocal repertoire to more classical and operatic pieces. I quickly learned that singing in Italian is a necessity for any classical singer. My desire to sing led me to begin studying Italian at Drew University. As I learned the language, I was able to use what I was taught in class to not only better my diction and pronunciation, but to have an idea of what I was singing about, which is crucial for any performance. I decided to get the credits for my last semester of Italian by doing the short-term program in Orvieto, Italy. In addition to the Italian language classes and activities, Professor Occhipinti helped me find an opera singer in the area who would give me voice lessons during my time there. Studying Italian opera from a native Italian singer, where opera originated was a priceless experience. My month studying abroad in Orvieto, Italy changed my life. I improved my Italian skills both in the classroom and by recalling what I had learned in order to communicate outside of class. Along with my language improvement, I fell in love with the culture and lifestyle of Italy. I had once in a lifetime experiences, made life-long friends with locals and Drew students I would never have met otherwise, and felt like I was part of the community. Because of Drew University's Italian program in Orvieto, I realized what I want to do with my life. I am now getting my Master's at New York University where I study vocal performance in classical voice and opera. I use Italian every day; I sing in Italian, I take Italian Diction class, I translate my Italian pieces in order to perform them truthfully, and I even take an Italian language class outside of my required coursework. I am furthering my education in hopes of returning to Italy to live and sing opera professionally.
Brianna Davis
After visiting Italy at a young age, I always had an interest in learning more about the history, culture and language. So I decided to pursue Italian studies when at Drew University, graduating in 2008 with minors in Italian and Spanish and a major in economics. The Italian courses taught by Professor Occhipinti and the department were truly inspirational – not only did the academic curriculum provide an authentic learning experience, but the courses were made fun, challenging, and interesting, further broadening my understanding and interest in the Italian language. Following graduation, I accepted a role in investment banking at Deutsche Bank in London and often reminisced on my Italian studies insomuch as continuing my studies informally in order to retain the same standard of language speaking abilities: "se non si pratica si dimentica." I have since worked in many different roles in banking in Europe at both Deutsche Bank and Barclays. Throughout several of those experiences, Italian speaking abilities proved beneficial. Now as a Vice President at Deutsche Bank, I reflect and recognise that knowledge of the Italian language has been an asset – colleagues and clients alike are pleasantly surprised and endeared when an American living in London is able to converse in Italian.  Leveraging the Italian skills learned at Drew has undoubtedly helped improve working relationships with Italian-speaking counterparts. I often visit Italy during summer holidays and regularly put the Italian language to use, with locals commenting on the authentic dialect – I am truly fortunate to have had the experience of studying Italian at Drew. The curriculum instilled has had a lasting impact on my professional and personal life seven years later. In fact I often jump at opportunities to share Italian words and phrases with friends and cook Italian meals. Reflecting on my passion for the Italian culture and language with family, friends, and colleagues is a testament to the impact studying at Drew has had in many aspects of my life. I would strongly encourage students seeking an enriching experience to consider studying Italian. Not only are the undergraduate studies compelling, but one will be amazed at the longer term impact it will have as far as professional use and personal enrichment go.

Joe Gotto
I am currently a research specialist at Princeton University. As a child, I had always wanted to learn how to speak Italian. As a fourth-generation Italian-American, the Italian culture was still, in many ways, a central aspect of my early life. Feeling so closely connected to my Italian roots throughout my life was immensely important to me, although never having visited the country of my ancestors nor being able to speak the language was a source of great unrest for me. I grew to feel as if I did not deserve to embrace or identify with the heritage that I had grown to love so very much and for so long. These views of mine all drastically changed during my years at Drew, however. Through my studies as an Italian minor, I finally had the chance to trace back my Italian roots and reconnect with my cultural heritage. I not only reached an advanced level of proficiency and fluency in the Italian language, but was also afforded the opportunity to study abroad in Italy twice. In a very real way, I felt like I had rekindled the flame that had been slowing dying since my ancestors immigrated to America generations ago. I became the torch bearer for my family members; a light leading to a gateway back into the culture and country that we all had been missing and longing for. Now, my family too wishes to travel in Italy and learn the language, and I personally feel much more at peace with myself and certain of my identity as an Italian-American. It is truly a feeling unlike any other and I can honestly say that none of it would have been possible were it not for the dedicated professors and extraordinary Italian program at Drew. Dal profondo del mio cuore, grazie mille!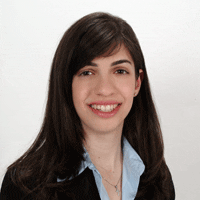 Sabrina Fruci
The exploration of a culture can provide fulfillment for the mind, body and spirit. As a first generation Italian American, my Italian heritage and culture has always been part of my life. It has been such a part of my life that I never really took the opportunity to truly appreciate how lucky I was to have grown up surrounded by such a wonderful culture. The Italian department at Drew helped me to appreciate my upbringing in a whole new light. Through my studies at Drew, I learned not only the Italian language but also about the past, present and future of Italy's place in the world. My Italian major has benefited me in two important ways since I graduated from Drew. From a professional perspective, the Italian major gave me a unique perspective relative to traditional finance candidates. My coursework in Italian provided a breadth that has made me a more well rounded candidate. I have also encountered a number of colleagues who also majored in a language and I have been able to establish a point of connection during interviews and on the job based on that commonality. The other important benefit to the Italian major to me is in some ways the more important one. In moving to New York City, I have been able to benefit from many of the cultural experiences the city has to offer especially the Italian culture. As a big fan of the Italian soccer team Juventus, I was able to join the official NYC fan club where I regularly join other members to watch games and discuss the future of the club. Many members and visitors who watch the games are from Italy or are proficient in the Italian language. My Italian major has allowed me to not only speak the language but has given me the foundation to speak from a place of knowledge. Following graduation in May of 2015, I joined RBC Capital Markets as an investment banking analyst focused on financial institutions. In January of 2017, I joined J.P. Morgan as an analyst in Securitized Product Origination, focusing on the Auto & Equipment sectors. My Italian major provided many important learning experiences from language to film to learning about Italian business practices. Beyond the number of professional benefits the major and program provides, there is also a personal benefit. In the fast pace of the financial services industry, it is important to find balance. My Italian major has provided me the foundation to live a more balanced life and helped me to embrace so much of what the city has to offer.