The Medical and Health Humanities program at the Caspersen School for Graduate Studies holds numerous events throughout the year. We invite anyone who is interested to participate in our programming!
Current Events
The Crucial Role of Medical and Health Humanities Alumni in Advancing Health Care: Two Exciting Announcements
The Drew Medical and Health Humanities Program values the exceptional contributions of its alumni, who play a crucial role in shaping and enriching the program. By collaborating with esteemed hospitals and public health institutions, where our alumni have secured notable positions, our program is able to provide students with hands-on learning opportunities. No one comprehends the significance of fostering compassionate care through the MHH lens better than our alumni, who confront these issues daily and must effectively navigate everyday challenges. Although this responsibility is by no means facile, our alumni can find solace in their community and in the resources our program offers, ultimately leading to advancements in healthcare.
We are tremendously grateful for their wisdom, connections, and experience, as without them, our program would not be possible. They play an integral role by serving as mentors, practicum counselors, preceptors, liaisons, and sometimes adjunct faculty, bridging the gap between current students and faculty.
Alum Colloquium: October 19, 4:00 PM, Zoom: Featuring Lauren A. Jutchenko G'14, DMH | Visionary Healthcare Leader, Respected, Educator, and FQHC Executive
To further strengthen our community, the Medical and Health Humanities program is launching the first of a series of Alum Colloquia this fall, kicking off on Thursday, October 19, with Dr. Lauren A. Jutchenko G'14 as she presents "Putting Patients First: Leveraging Patient Feedback to Improve the Patient Experience." In her current role, Lauren is a Vice President of Risk Management, Patient Experience, and Behavioral Health Quality for Sun River Health, an organization with a mission to always provide care in a respectful, patient centered environment of healing. Plan to join us for this enlightening and informative event. A question and answer session will follow the presentation. Registration and Zoom link.
Speaking about Care podcast episode
We are thrilled to share the exciting news about our newly launched podcast episode, Speaking about Care. In this episode, we had the privilege of interviewing some highly esteemed alumni from Drew University: Beth Bertolini, Yvette Vieira, Amy Eisenberg, and Nancy Gross. Together, they shed light on various aspects of the Master of Health and Human Services (MHH) program.
During the episode, our alumni delved into the significance of the MHH in today's world and how its principles can be applied effectively in both hospital and community settings. They also explored the potential future developments that the field of health and human services may witness, offering valuable insights and predictions. This episode of Speaking about Care is an excellent opportunity for listeners to gain a deeper understanding of the MHH program at Drew University and the practical value it brings to real-world situations. We encourage you to tune in and uncover the possibilities that await in the field of health and human services through Drew's exceptional program.
DREW'S MEDICAL AND HEALTH HUMANITIES
Curated Pinboard
Interested in events taking in and around Drew about Medical and Health Humanities? Curious about careful and considered commentary about current events?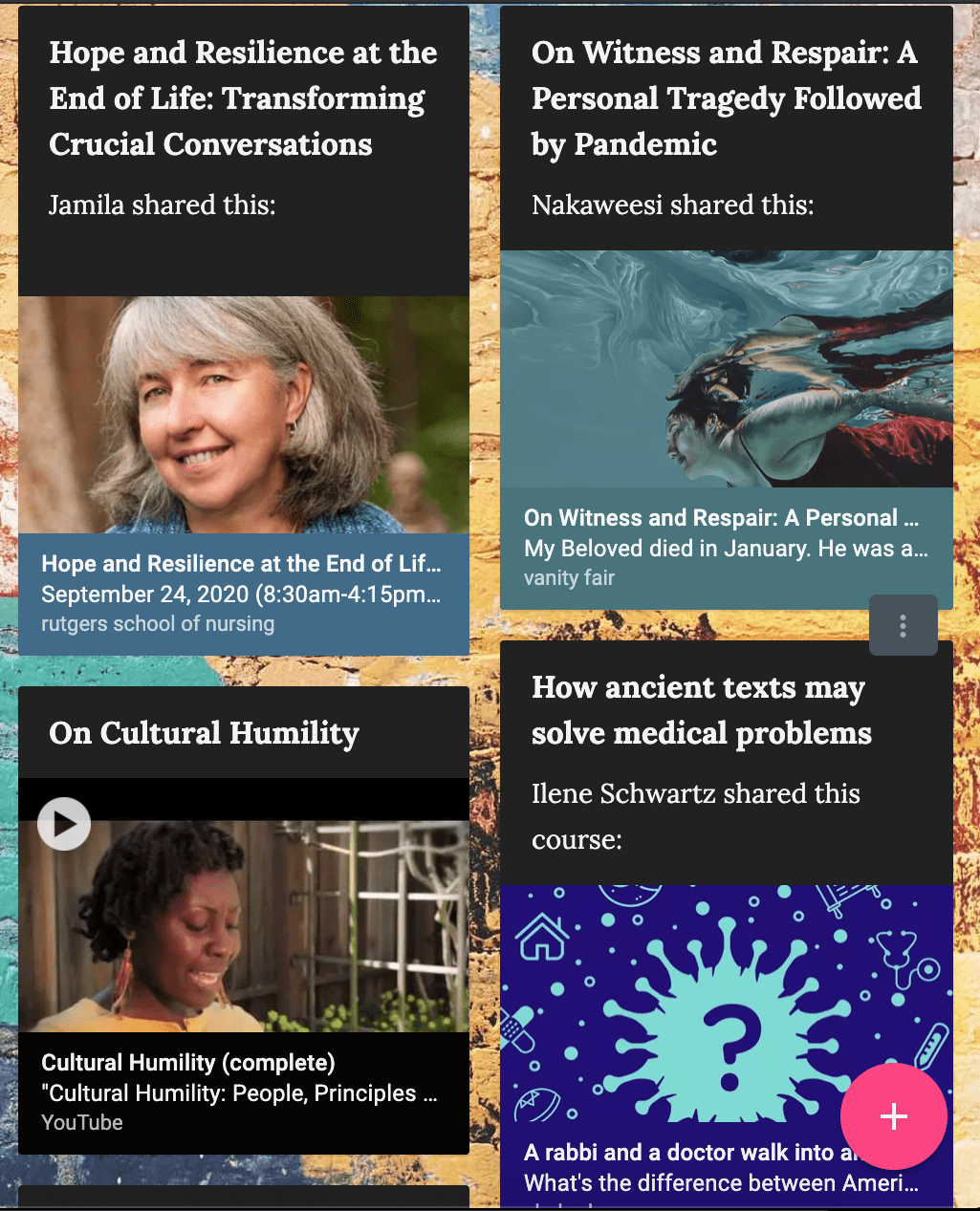 Q-Methods Lab
Join us at Q-METHODS-LAB?
Second Thursdays of the month, 4:00-5:00 PM EST.
Our new Q-METHODS-LAB will support your qualitative research and make it work for you in everyday situations of your practice. Now, once a month, you can drop by and touch base with renowned qualitative research fellows with extensive research and evaluation expertise, to share your work and ask questions. Q-METHODS-LAB is about creative puzzling, support and sharing examples of the shapes that research takes these days and how it may contribute to your studies and beyond. No foolin'. [Don't be surprised to hear: The choice of method isn't the most important question."]
With Medical and Health Humanities fellows:
Liora Bresler (University of Illinois, Qualitative and Arts-based studies)
Saville Kushner (University of East Anglia, Drew University, the Self in Inquiry)
Richard Morehouse (Viterbo University, Qualitative studies)
Robert Stake (University of Illinois, Case studies)
and others such as
Gaetana Kopchinsky (Drew University, Narrative inquiry)
Merel Visse (Drew University, Qualitative, Policy and Arts-based studies)
Upcoming dates –
second Thursdays of the month, 4:00-5:00 PM EST.
Quantum Narratives
Listen to the First Episode of Quantum Narratives, our Medical and Health Humanities Podcast
The Quantum Narratives podcast aims to shed light on the "medicine" that emerges out of creativity and stories to thwart implicit biases that contribute to healthcare disparities as a result of structural inequalities and racism. Hosted by Nakaweesi Katongole and Merel Visse. Produced and sponsored by the Medical and Health Humanities Program at Drew University.
In this inaugural episode, Nakaweesi and Merel talk with their Drew colleague Kenneth Ngwa, director Global Health and Religion Forum, a partner of the Medical and Health Humanities Program. The conversation flows toward taking the community as a baseline.
Launch of the MHH Contemplative Professional Certificate | 2 March 2023
Launch of the MHH Contemplative Professional Certificate
Thursday, 2 March 2023 @ 3:00 – 6:00 PM EST
On-Campus at Drew University, EC Crawford Hall and Virtually via Zoom
Join us in a Keynote, Meditation, and Q&A with Professor Erin Sheehan;
and a

 

Reflective Writing Workshop with Thomas Dooley, Poet-in-Residence, Overlook Medical Center
This launch will also include: Course Summaries, Student Testimonials, and Contemplative Initiatives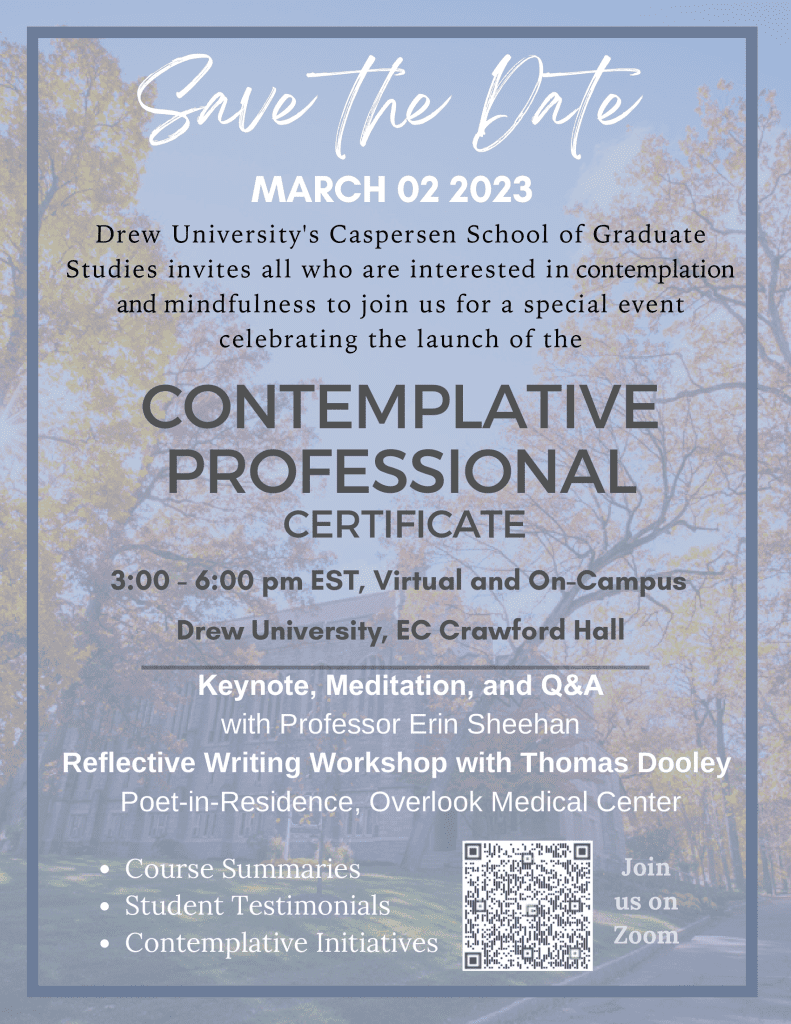 Medical & Health Humanities Colloquium | Maternity and Care | 27 January 2023
Maternity and Care | a Medical and Health Humanities colloquium
Friday, January 27 @ 2:30-4:30 PM
Drew campus, Ehinger Center, room 145 or virtually via Zoom
Featuring Professor Inge van Nistelrooij and contributions by:
Melanie Miller, MA IBCLC, lactation educator and doctoral student
Elena Cologni, PhD, MRSS, AMRSPH, Associate Professor at Cambridge School of Art, and others
Care theorists' attention to maternity has always been characterized by ambiguity. On the one hand, care ethics is rooted in feminist research regarding practices of mothering, in which women's practices, self-understanding, and related morality were analyzed and expressed. On the other hand, the topics of maternity, pregnancy, and birth have also been abandoned on purpose by most care ethicists in the early 1990s. Claiming a feminine specificity in the public realm had proven to be an unsuccessful strategy for care theory to gain the political and moral impact it deserves. At this colloquium, we will explore professor van Nistelrooij's work and seek connections with the professional contexts of our master's and doctoral students.
Inge van Nistelrooij is professor by special appointment 'Dialogical Self Theory', Radboud University, The Netherlands and an Associate Professor Care Ethics, University of Humanistic Studies, The Netherlands. In the Spring of 2023, she teaches the Maternity and Care course at the Caspersen School of Graduate Studies.
Medical & Health Humanities Symposium | Creating Cultures of Trust and Equity for People Living with Sickle Cell Disease | 1 November 2022
Medical & Health Humanities Symposium
Creating Cultures of Trust and Equity for People Living with Sickle Cell Disease
Tuesday, November 1 | 1-6 p.m. ET
Founders Room, Mead Hall, Drew University and Online
Register for this

 

in-person

 

and

 

virtual

 

event
THIS SYMPOSIUM EXAMINES WAYS TO IMPROVE TRUST, RESPECT, AND EQUITY OF ACCESS TO TRIALS AND TREATMENTS FOR PEOPLE WHO LIVE WITH SICKLE CELL DISEASE.
Join us in person or online as we explore biopharmaceutical and ethical perspectives as they relate to the everyday experiences of people with SCD. The symposium encourages dialogue between science and humanities speakers. We invite you to contribute to our understanding of the experiences of people living with sickle cell disease and their aspirations of improved future treatments.
You may choose to join us for the full day or for as many sessions as your schedule will allow.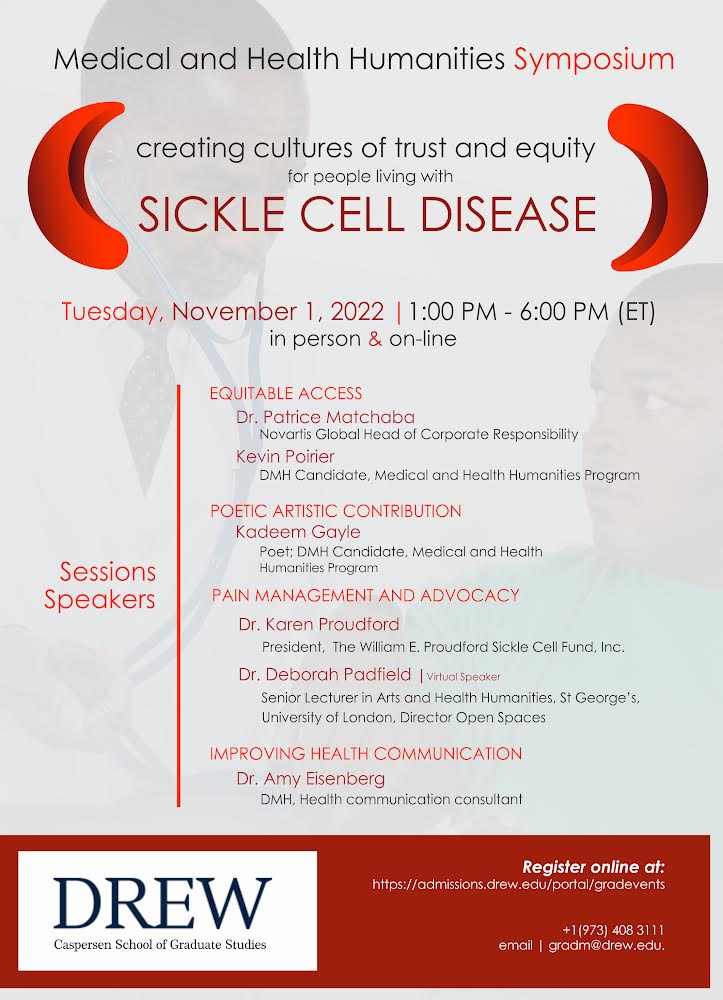 Symposium on the Healing Arts | 11 May 2022
The Drew University Medical and Health Humanities Program was to hold a virtual 
Symposium on the Healing Arts
 on 
May 11, at 5:00 PM EST
, to honor Ellen Dissanayake for
her recent donation
of her books, articles, book chapters and other papers to the Drew Archives. The symposium featured
 Ellen Dissanayake, Peter Shannon
, and 
Maria Lupo
, and was moderated by
Merel Visse
 and introduced by
 Liora Bresler
.
Featured Guests
Ellen Dissanayake is an American author, scholar, and Professor Emerita whose work focuses on the anthropological exploration of art and culture. Dissanayake has developed a unique perspective that considers the arts to be normal, natural, and necessary components of our evolved nature as humans. The Department of Medical and Health Humanities wishes to honor Dissanayake for the recent donation of her book collection to the Drew Archives.
Peter Shannon is an international orchestral conductor who has developed and shepherded programs in the USA at hospitals, cancer institutes and hospice settings for over ten years. He is the founder and director of the American Institute for Music and Healing, a collaborative effort with Jacqueline Huntly MD, who is board certified in Preventive Medicine and a Fellow in Integrative Medicine. Their mission is to educate and collaborate with musicians and healthcare professionals to harness the healing effect of music. His current PhD thesis on Franz Schubert, illness and healing is funded by the Irish research council.
Maria Lupo, MFA, MA, ATR-BC is a Board Certified Art Therapist and an internationally recognized artist. Lupo serves as the Supervisor of VHS-NJ-Hospice Intern/Volunteer Program & Staff Training. Currently, she is an Adjunct Professor at Montclair State & Caldwell Universities and Ramapo College. Lupo is a recent graduate of Drew University's Doctor of Medical and Health Humanities program and will present her dissertation: Work-Life Balance through the Arts and Creativity: An Intimate Portrait of Health Professionals.
Liora Bresler's interdisciplinary work focuses on the arts and qualitative research methodology. In her various editorship roles in books and special issues of academic journals, she has sought to bring together intellectual communities across arts disciplines and cultures to address key areas. Beyond her writing, teaching and service at the University of Illinois, her positions of visiting professorship in various countries have facilitated closer research interactions with faculty and doctoral students internationally.
Program
5:00 – 5:05 PM – Introduction by Dr. Merel Visse, Session Moderator and Director of Drew University's Medical and Health Humanities Program
5:05 – 5:10 PM – Introduction for Ellen Dissanayake provided by professor emerita Liora Bresler
5:10 – 5:40 PM – Conversation with professor emerita Ellen Dissanayake in honor of her donation to the Drew Archives
5:40 – 6:00 PM – Conversation with Peter Shannon on how orchestral music can transform and heal communities
6:00 – 6:10 PM – Q&A with Peter Shannon
6:10 – 6:30 PM – Maria Lupo presents Work-Life Balance through the Arts and Creativity: An Intimate Portrait of Health Professionals.
6:40 PM – Questions and Closing Remarks
POSTPONED: Medical and Health Humanities Colloquium: Dependency and Disability | 2020
Saunders Room, Mead Hall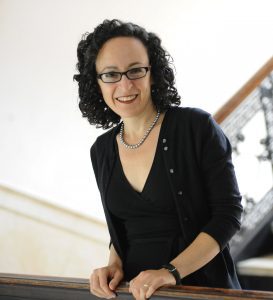 The Medical and Health Humanities Program of Drew University kindly invites you to join us for a colloquium on dependency and disability in relation to care. We are honored to have Dr. Rachel Adams as our guest speaker. Drew faculty members and students such as Dr. Nancy Vitalone-Raccaro (Teacher Education and Special Education), Michael Anderson (Drew Theological School), and visiting scholar Simon van der Weele (University of Humanistic Studies, Netherlands) will respond to Dr. Adams, followed by a discussion. Afterwards, there will be drinks and snacks to continue the conversation.
Dr. Rachel Adams is professor of English and Comparative Literature at Columbia University. Her expertise ranges from Disability Studies to Health Humanities and Food Studies. She is the author of the monographs Raising Henry: A Memoir of Motherhood, Disability, and Discovery (2013); Sideshow U.S.A.: Freaks and the American Cultural Imagination (2001); and Continental Divides: Remapping the Cultures of North America (2009).
Please register before March 31 by sending an email with your name and affiliation (if applicable) to: medicalhumanities@gmail.com.
The Hidden World of Care: Medical and Health Humanities Symposium | 2 November 2019
November 2
1:00 to 5:00 p.m.
Mead Hall
The Medical Humanities Program of Drew University cordially invites you to join a dialogue that raises critical questions on care.
At a moment of political discord in our country, it is no secret that we face a care deficit. To adequately care for our children, older people, and for ourselves has become a challenge. Care impacts us all, no matter where we live or where we were born. Although political life and institutions should help us to care better, many caregivers see organizations as hindrances to care. 'Care' is also narrowed to care work and a commodity, professor Joan Tronto would argue, rather than seeing the full practice of care. Care holds our lives together, but it is still hidden from public space and that needs to change. During this afternoon, we grapple with questions such as: what would it mean if we would rethink our private and public commitments from the perspective of care? How should care be distributed, or who should care, for whom and why? How can we tell which institutions provide good care? And what would a caring institution look like?
Chaired by Yvette Vieira (MA MMH) Manager, Palliative Care and Bioethics Atlantic Health System and Atlantic Health Liaison.
1:00PM-1:15PM – Opening by Associate Dean Melanie Johnson-DeBaufre.
1:15PM-1:30PM – Introduction to the Medical Humanities Program by Merel Visse, Director, Medical Humanities, Drew University and Rosemary McGee, Certificate MH.
1:30PM-2:15PM – Professor Emerita Joan Tronto: Looking at the World Through a Care Lens.
2:15PM-2:45PM – Responses by Nancy Gross, Overlook Medical Center/Adjunct Professor Medical Humanities Program, Drew University and Dr. Gaetana Kopchinsky, Adjunct Professor, Medical Humanities Program, University Trustee, Drew University
2:45PM-3:15PM – Break. Screening of first half of Care, a Documentary.
3:15PM-4:00PM – Workshops by MH doctoral students on Person-centered Health Care Experiential by Maria Lupo (MFA) and Poetry and Care by Stephanie Tobia (MFA).
4:00PM-4:30PM – Screening second half of Care Documentary (plenary).
4:30PM-5:00PM – Discussion and closing.
Professor Emerita Joan Tronto professor of Political Science, University of Minnesota. She has been writing about care ethics for about thirty years. Her current research involves thinking about care from a global perspective. Professor Tronto is one of the founders of the Care Ethics Research Consortium. In 2014 she received an honorary doctorate from the University of Humanistic Studies for her accomplishments in the field of care ethics and theory. https://care-ethics.org/team/prof-dr-joan-tronto/.
Nancy Gross, MA MMH, works as a humanities educator at the affiliated partner of the MH Program: Overlook hospital/Atlantic Health. She works with health care professionals, patients and care partners providing narrative medicine sessions, literature and medicine seminars and develops/coordinates the humanities activities. She integrates humanities activities for staff, patients/families and community members to elucidate the issues that life limiting illness and end of life pose.
Dr. Gaetana Kopchinsky is a philanthropist, writer, humanist, and educational mentor of underprivileged and exceptional elementary, undergraduate and graduate students. She has published many articles in her graduate and post-graduate capacity on clinical contemporary physician-patient issues through the Schwartz Rounds Conference Program with circulation to 23 hospitals across the United States. She is a winner of the Schering-Plough Scholarship (2008) for Outstanding Achievement in Medical Humanities. She is a three-time alumna of Drew University and serves on the Drew Alumni Council. As a professor at Drew Caspersen Graduate School, her expertise is in clinical narrative; humanism; contemporary psycho-social issues including pain and major chronic depression on the human condition. 
Maria Lupo studied Sculpture/Combined Media at Hunter College, CUNY, receiving her MFA. In addition to her studies as a fine artist, Maria has completed her Post-Masters Specialization in Art Therapy from Caldwell University and is a Board Certified Registered Art Therapist holding a second Master's Degree in Counseling Psychology. Currently, Lupo is a Doctoral Candidate in the Medical Humanities at Drew University and an exhibiting artist. www.lupoart.com
Stephanie Tobia received her MFA in Poetry and Poetry in Translation from Drew University. She is now enrolled in the Medical Humanities program where she is interning at Overlook Medical Center. Stephanie founded a healing poetry group at a post-acute rehabilitation center for senior citizens and is currently developing research around that topic.
Medical Humanities Symposium | 15 March 2019
Medical Humanities Symposium
Co-sponsored by Drew Everyday Ethics Initiative
Friday, March 15th, Mead Hall
3:30 p.m. to 6:30 p.m. with Reception to follow
Posters will be displayed beginning at 3:30 and will remain up until 6:30. Poster session participants will be available either prior to the lecture and following the panel discussion during the full reception to share their research.
Join us for a poster session, lecture, panel discussion, and reception.
4:15pm – Lecture with Student Panel Respondents
"What is the Contribution of Care Ethics to Medical Humanities?" by Dr. Merel Visse
Dr. Visse is associate professor of Care Ethics at the University for Humanistic Studies in The Netherlands. Her work focuses on the encounter of aesthetics, ethics and politics. Her research, writings and lectures are a combination of artistic, literary and philosophical practice. Her work focuses on how everyday experiences of people relate to the abstract conceptions of institutions and society. She says, "I'm interested in what dwells beyond our language too: the mysterious, unknown and unsayable. My work is grounded in the interdisciplinary field of care ethics and I have expertise in phenomenology, arts-based inquiry, narrative inquiry and responsive evaluation." Visse received her PhD in the humanities from the VU University of Amsterdam. For more see, www.merelvisse.com.