The Byron Society of America was founded in 1973 by Marsha M. Manns and Leslie A. Marchand to further the study of the life and work of Romantic poet George Gordon, Lord Byron (1788-1824). In 1995, Manns and Marchand also founded the Byron Society Collection, which represents a material history of Byron literary and cultural studies from the 19th century to the present day. Conceived as a living collection to which Byron Society members and friends could contribute their own collections, it has grown significantly over the decades. The collection has been divided into five smaller collections: Byron Society Collection, Byron Realia Collection, Byron Society of America Archive, Leslie A. Marchand Papers and Ephemera, Jerome J. McGann Papers and Ephemera.
By nature the collections are interdisciplinary and situated at the institutional intersection of the library and the museum. They are being developed for scholars, students, and individuals interested in the Romantic period in literature, in the Greek Revolution, in publishing history, in material culture, and in cultural studies.
---
Michael Rees Remembered
March 31, 1931 – September 20, 2021
When the Byron Society Collection was just getting started, Michael Rees, a dedicated collector of Byron books in many languages, as well as Byronic portraits and memorabilia, generously donated his entire remarkable collection as he was preparing to enter the abbey at Caldey Island in his native Wales.  This unselfish gesture, so typical of Michael, greatly enriched the holdings of the Byron Society Collection from its earliest years.
A dedicated Byronist, Michael had a long history of vigorous and varied service to the International Byron Society.  From May 1975 until the close of 1978, Michael was joint chairman of The Byron Society, London.  He later served as the first secretary, later joint chair, of the International Byron Society, encouraging the development of many of the international societies and organizing a number of the early international tours, including Greece and Scotland in 1976, Portugal and Spain in 1977, and Italy in 1978, among others. A gifted linguist, he sometimes served as an unofficial interpreter on the tours, which he meticulously documented through photographs and journals.  He translated Teresa Guiccioli's Vie de Lord Byron in Italie (University of Delaware Press, 2005), which was edited by Peter Cochran.
Michael took the name Brother Teilo when he entered the abbey.  While there, his abbot writes, "his language skills enabled him to become connected and to remain connected to so many people from all continents."  (Tenby Observer, September 21, 2021: "Obituary—Brother Teilo Rees of Caldey Island" by Father Daniel, Abbot of Caldey.)  A very kind person, Michael was a peacemaker; every person that he met was important to him.  His impact on the International Byron Society, on the Byron Society Collection—indeed on all who knew him—remains immeasurable.
---
On Thursday, April 21, 2016 scholars, researchers, and the curious public gathered at Drew University to explore the work of Romantic writers, Byron and Austen.
Byron Society Collection Library
The library of the Byron Society Collection contains more than 6,000 volumes including many early editions of Byron's works, scholarship and research, and other printed materials. Of note are letters and autograph materials of Catherine Gordon Byron, Thomas Moore, Edward Trelawny, Lady Byron, and others. Notably, the collection contains books from the collection of Michael Rees, former Secretary of the International Council of Byron Societies, as well as other Byron scholars and collectors including Leslie Marchand, Betty Bennett, J.B. Yount, and David and Deirdre Stam.
Search the Byron Society Collection Library
Byron Realia Collection
The Byron Realia Collection includes visual representations and portraits, such as Rembrandt Peale's 1825 lithograph of Byron, as well as busts and Staffordshire figures, medals and plaques, drawings and engravings, and decorative and other material objects that demonstrate the impact of Byron's life and works on his readers, both past and present.
Browse the Byron Realia Collection
Byron Society of America Archive
The Byron Society of America Archive contains correspondence, newspaper clippings, financial files, newsletters, and articles that document the founding and activities of the Byron Society of America. The Society brings together Byron scholars and devotees to support scholarship, tours, conferences, lectures, and programs.
View the Byron Society of America Archive Finding Aid
Betty T. Bennett Papers
The Betty T. Bennett Papers contain the research, writings, correspondence, reproductions, and manuscript materials relating to Bennett's academic research and publications. The collection includes personal and professional correspondence related to research and work in the field of English literature, specifically that related to Mary Shelley and her circle. Also included are numerous reproductions of Shelley's letters and manuscripts from various cultural institutions.
View the Betty T. Bennett Papers Finding Aid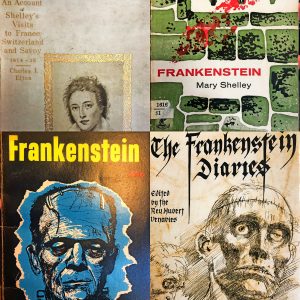 Leslie A. Marchand Papers and Ephemera
Leslie A. Marchand Papers and Ephemera contains the research, writings, correspondence, facsimile reproductions, and materials relating to his voluminous publications. Included are numerous facsimile reproductions of Byron's manuscripts and reviews of Marchand's main works: Byron's Letters and Journals, Byron: A Biography, and Byron: A Portrait.
View the Leslie A. Marehand Papers and Ephemera Finding Aid
Jerome J. McGann Papers and Ephemera
The collection contains Byron-related papers of Jerome McGann, scholar of 19th century literature and culture, and editor of Byron: The Complete Poetical Works. It also includes his working files for the OET Byron edition, a large set of facsimiles of Byron MSS and associated Byroniana, and scholarly and critical materials used in his work on Byron and the historical period.