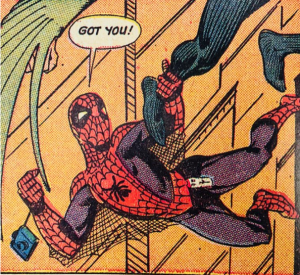 Gifted by many donors, this collection is comprised of an eclectic selection of Marvel and DC Comics, as well as other smaller publishers. The bulk of the collection is focused around the late 1970s through the early 2000s.
Emilio Córdova Collection
Dr. Emilio Córdova graduated from Drew University in 1990 with a BA degree in Chemistry.  Dr. Córdova has a PhD from the University of Miami (FL) in Analytical Chemistry, and a MBA from the Krannert School of Management at Purdue University.  He has co-authored 8 publications, including a 1994 Nature article that was highlighted in the 2016 Nobel Prize in Chemistry given to Dr. Fraser Stoddart.  Dr. Córdova earned a post-doctoral fellowship at Harvard University under Dr. George Whitesides in 1995-1996.  He has worked in contract research over the past 25 years, including his current role as CEO at SAMDI Tech, Inc., in Chicago, Illinois.
Dr. Córdova's love of comic books stemmed from his childhood years reading the adventures of Green Lantern and the Incredible Hulk.  The donated collection serves as reminder of Dr. Córdova's love of comics books and his dedication to Drew University.   His commitment to Drew University continues to this day through his involvement as a Board member of the College Alumni Board, a member of the Parents' Council, and recently, along with his wife, Ileana, endowing a scholarship at Drew called The Cordova Family Minority Scholarship in the Sciences.
View the Emilio Córdova Collection Inventory
William B. Rogers Collection
William B. Rogers (PhD, Drew University) teaches nineteenth-century American history (particularly antebellum reform movements and the Civil War), the impact of war on American society and Irish/Irish-American history and literature. His publications include "The Great Hunger: Act of God or Acts of Man," in Ireland's Great Hunger: Silence, Memory and Commemoration; "Frederick Douglass, William Lloyd Garrison and the Prophetic Tradition in Nineteenth Century America," in Let Justice Roll; and "We Are All Together Now" in Frederick Douglass, William Lloyd Garrison and the Prophetic Tradition. Rogers' collection was donated to Drew University Special Collections in 2020.
View the William Rogers Collection Inventory
Sloane Drayson-Knigge Collection
Dr. Sloane Drayson-Knigge is an Adjunct Professor of History and Literature in the Caspersen School of Graduate Studies at Drew University. Among her many areas of interest and expertise, Dr. Drayson-Knigge studies and teaches on material related to graphic novels, comics, graphic arts, and Holocaust Studies. She is an active and avid collector of graphic literature and comic book art.