Stefanie DeFronzo C'20 and Marina Hahn C'20 adjust on the fly amid pandemic
March 2020 – Drew University seniors Stefanie DeFronzo and Marina Hahn had planned for the fourth-annual Fair for Emerging Researchers to be held on campus, as it always had been.
The fair, a senior Civic Scholars project, was set to bring 120 middle schoolers to campus to participate in a science fair and share their research with 30 Drew student and faculty judges. The two had every detail set, down to the logistics of school bus routes around campus.
When the spread of the novel 2019 coronavirus (COVID-19) led to Drew postponing events and implementing social distancing practices to ensure student safety, DeFronzo and Hahn had two choices for the event they'd been organizing since the summer: cancel or adapt.
"My brain went into fight-or-flight mode," said DeFronzo, a biochemistry & molecular biology major. "I committed to completely transition this very in-person event to a virtual one."
"We wanted to give the middle schoolers a chance to show off their hard work," added Hahn, also a biochemistry & molecular biology major.
While not every student scheduled to attend the event in person was able to participate virtually, 40 students combined to submit 29 different projects. With help from teachers, the students were able to send in videos of their research poster presentations or photos of their posters.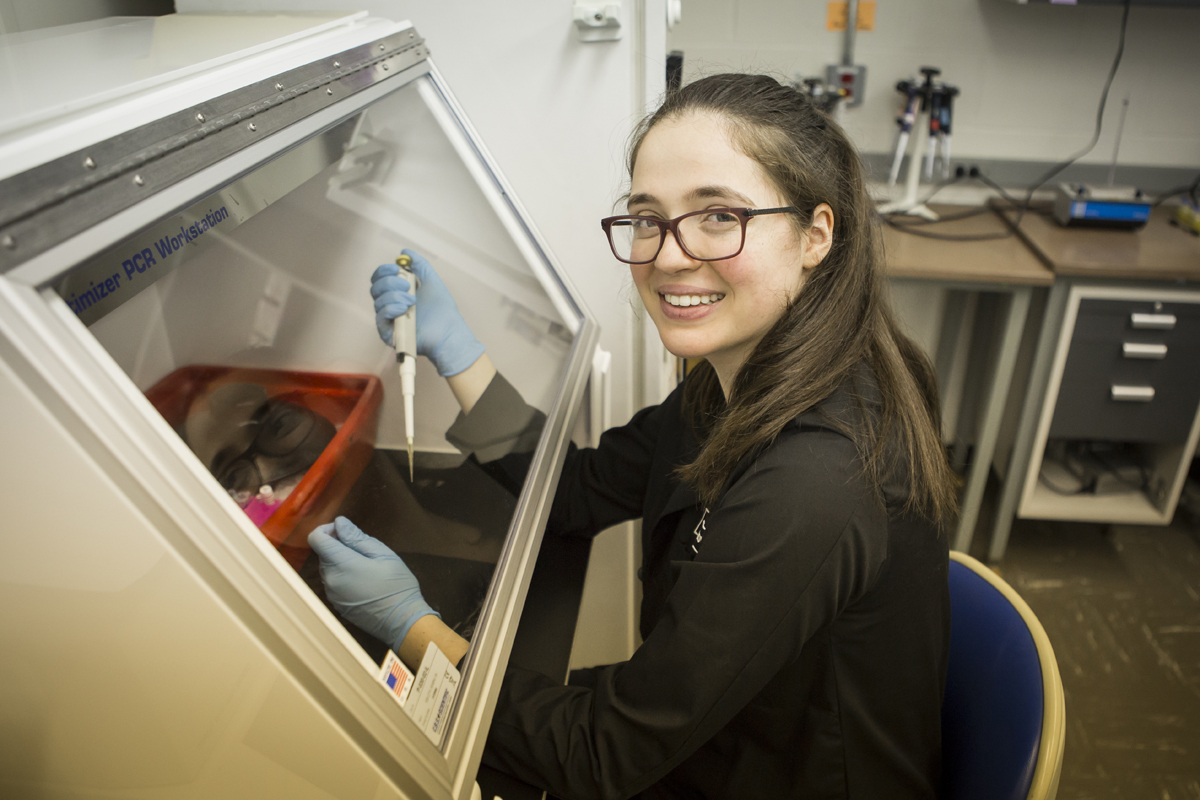 "When Drew announced that they would move all meetings remotely, we decided to use Zoom to organize the judging process," said Hahn.
With topics ranging from the effectiveness of whitening toothpaste to exploring which liquids give succulents optimal growing conditions, assets received from middle schoolers were uploaded into Google Drive and went through two rounds of judging via Zoom meetings. In all, 20 Drew student judges and 10 faculty judges virtually selected six prizewinners.
"We'd all gone through a crash course training with Zoom, but the undertaking of coordinating 30 judges and using breakout rooms to watch videos and discuss in smaller groups seemed daunting," said Kim Choquette, assistant professor of chemistry, who served as one of the faculty judges.
"It was like we walked into a room and they handed us a folder of materials," she said.
"This experience has allowed me to appreciate the amount of support I have from my peers, professors and the university," said Hahn.
"It taught me that in a crisis, the best thing to do is focus on achieving one thing at a time," reflected DeFronzo. "When I closed the final judging Zoom meeting, not only did I feel the weight of a year of active planning lift off my shoulders, but I felt proud to have been able to continue this event given the stress plaguing our planet."
With all the changes students are currently navigating, the easy choice would have been to cancel the event, but DeFronzo and Hahn doubled down on their efforts and made it happen.
"This fair is a beautiful idea," said DeFronzo. "In this time of uncertainly during a global pandemic, standing together, in STEM or otherwise, is essential. Anything that brings people together is extremely important to our society."
Hahn echoed her co-organizer's sentiments.
"Knowing that Stefanie and I persevered through this together and gave students from various backgrounds a chance to engage in project-base learning made it all worth while."
For the latest information regarding Drew's response to the coronavirus, visit the Coronavirus Disease 2019 (COVID-19) resource site.