What Our Alumni Are Saying
Alex Edwing C'23: double major in French and Political Science
When I transferred to Drew University, one of the only things I knew for sure was that I wanted to major in French, and it was one of the best decisions I made at this school. I tested out of the 100 levels and started in 201 with Madame Pieretti and the rest is history. I became more involved with the French major over the next few years, one of my favorite classes being French Cinema (what's better than watching movies for homework?!). My senior year I took charge as president of L'Association Francophone, our Francophone club here at school and put on multiple successful events each semester! Although learning on campus is important, one of my favorite memories was on our ShortTRECs! I actually went on two: a trip to Provence focusing on Art History, and a trip to Paris to study specifically French language! These experiences helped me realize that I want to continue perfecting the language, so I will be traveling this Fall 2023 to Aix-Marseille to teach English!
Alexa Hinkle C'23: double major in French and Theater
I came to Drew with the intention of majoring in French since in 10 th grade I went on exchange to Geneva, Switzerland. I remember the first day I toured Drew and spoke with Prof. Placet-Kouassi. We had a casual conversation in her office to gauge where my French proficiency level would be and after that she recommended a course for me to begin with once I enrolled the coming fall. She ended up becoming my advisor and I'm so grateful to have had her by my side throughout my studies at Drew along with Prof. Pieretti. My favorite part of Drew was the summer I went on the short trek to Provence with Prof. Pieretti and the short trek to Paris with Prof. Placet-Kouassi. This was a great opportunity to practice speaking French in real world situations while being on vacation as I took classes, went to museums, historical sites and explored places with friends or on my own. I also majored in theatre so my Capstone project was translation an American play into French. It was difficult, but certainly worthwhile and I highly recommend anyone who's interested in the arts to also study French at Drew.
Candace Foltiny C'22: double major in French and English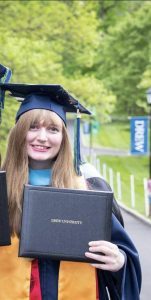 Coming to Drew, I knew I wanted to teach high school English, French, and ESL, so I double majored in French and English literature and minored in Psychology. However, learning many subjects brings many challenging and rewarding experiences. At times, I could only think in English during French classes, French during English classes, and/or Franglais (French/English combination) during both. Yet, in these moments, I fully realized I could think in both languages, truly feeling the essence of what it means to just know. My professors, Marie-Pascale Pieretti and Muriel Placet-Kouassi, aided with this process, ensuring all students' safety and inclusion within the French department's academic family. These sentiments helped in my creation of Baldwin Honors Thesis, serving as both my French and English capstones, "Disability Narratives: How Representation in American and French Literature and Media Affects Students with Disabilities." I would say this thesis came from my favorite class, but I cannot have a favorite when you always love the content and the people involved. I would say Simone de Beauvoir elucidates my experiences best, when she said, "One's life has value so long as one attributes value to the life of others, by means of love, friendship, indignation, compassion."
Caroline Mull C'22: double major in French and History
I entered Drew knowing that I wanted to continue my education in French language and culture, but I really didn't know anybody else in the program or what else to expect. As I explored further, I found a community in which I could learn, have fun, and also develop meaningful connections between my fellow colleagues and advisors. One of the very first highlights of these early weeks for me was "la Table Française", a place where students of all levels in school and the language could assemble, talk and play games for an hour every week. When the pandemic hit, everything changed and I discovered a whole new aspect to French, digital humanities projects. Whether it was because we couldn't travel or couldn't meet for classes in person, this whole new aspect of digital expression and exploration became yet another highlight of this program. It felt as though we were all learning to do something new and exciting together as we worked through one of these projects, the most interesting of which was the cumulation of a semester's worth of learning on Francophone Africa. Overall, it was an amazing and thought – provoking program that has shaped me into the well-rounded scholar I am today (MS in Data Science).
Licorne Gould C'22: double major in French and German
One of the most challenging and also important things I accomplished at my time at Drew (and in my life so far) happened in part due to the French department: the completion of my honor's thesis on making French inclusive to women and non-binary genders. As someone who had done 8 years of study in French and was coming to terms with my own understanding of my gender, the department was extremely welcoming to me challenging the ways gender has historically operated within the language (and the way my professors had grown up speaking French). The project was incredibly ambitious and I wouldn't have been able to do it without their support creating a space for me to bridge the gap between French grammar and our expanding understanding of gender, something that continually shows to be controversial in the francophone world. If you're interested in language and want to learn about rich cultural history and contemporary topics that allow you to connect with people globally, I highly recommend you take one of the various French courses offered at Drew.
Hsiao (Ella) Yu Lin C'21: double major in French and Business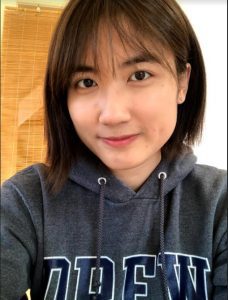 As an international student, people are always surprised that I want to major in French. They always ask me why I would want to learn a new language from scratch, considering that I already know two other languages (Chinese and English). However, I am very sure that majoring in French is one of the best decisions that I have ever made here at Drew. Majoring in French is more than learning the grammar and the vocabulary, but to get to know more about French culture and society. In different French classes, I learned to analyze literature, films, texts, and images. These classes sharpened my analytical and communicative skills and most importantly, provided me with a different perspective to interpret the world.
I enjoyed all the French classes that I have taken, but if I must pick one to recommend, I will choose the Paris: Biography of a Capital. A class that shows how culture, history, and people shape Paris. The benefits of learning French are undeniable, you will be surprised about what French can bring you and how it can change you.
Odalys Arbalaez C'21: double major in French and Biology
After taking French classes to fulfill the language requirement, I knew that I wanted to continue learning French and with the support of the French department, I decided to pursue a French major. I was able to take a variety of French courses, one in particular being International Business in French, where we were able to travel to Québec and Montreal to learn about Francophone businesses and the value of Francophone speakers in the business industry. Another highlight of my French studies has been the completing of my French capstone, in which I was able to combine my interests in biology and French by examining the influence of politics on the handling of the COVID-19 pandemic in France and the U.S.. Through these experiences, I have gained confidence as a French speaker and writer and as a more well-rounded individual. My French major allowed me to stand out in my graduate school applications and gave me valuable skills that I will use in the future. I highly recommend that any Drew student that has an interest in French take a course or study abroad because it will be one of the best experiences they can have at Drew.
Saraphina Noel Jeune C'20: double major in French and Business
I decided to add French as a second major to not lose all the progress I had made since High school. It was an easy decision to make because the French department was extremely resourceful, the professors are passionate about their lessons and that makes the learning experience more fun. The French department offered various classes, events and projects that have raised a bigger understanding of the language. I took a lot of different courses, one of the courses that I really enjoyed and highly recommended was Selected Topics in French: Africa in French: Voices from Africa and its Diaspora. If you are interested in the history of some of the West African countries such as Burkina Faso. Writing my capstone was the most challenging, it was hard because I had to balance work from my other classes. I had chosen a topic that I was truly interested in, so that made the research process a bit more enjoyable. And the professor is available every step of the way to ease the writing process. One thing I truly regret not taking advantage of was the study abroad program. I highly recommend at least a month studying abroad because that will help you gain cultural perspective. I am sure that the French department will make the experience unforgettable and enjoyable.
HwaJung Kim C'20: triple major in French, English and Psychology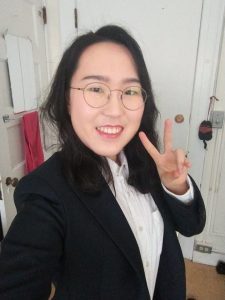 There is not a single moment in my experience at Drew that does not involve French department. I would make a list if I could, but if I were to choose one experience to share, I had an amazing semester in Paris with the help of the Kathryn Stanley Scholars Program and was gifted with an opportunity to learn the French language and culture through interactive learning. It is common to feel the difference in scholastic learning and real-life language, but what I learned at Drew well-prepared me for a life as part of the Francophone community. The strict French-only classes with debates and discussions about culture, history, and contemporary issues allowed me to have meaningful and deep conversations with Parisians and introduced a whole new angle on how I interpret the world. One course I absolutely enjoyed and would recommend to any, major and non-major, student at Drew is a cinema class. A free sharing of one's definition of frenchness and perspective is a life-long lesson that goes way beyond the classroom walls. I encourage Drew students to be brave and throw oneself into a totally new world of knowledge.
Melissa Viana C'20: double major in French and International Relations
I began my French experience at Drew in 2018 when I traveled to France for the Paris ShortTREC program. Immediately, I was welcomed by the French department and students with open arms. I became part of a family that was unconditionally supportive and challenged me to become the best version of myself. Taking French courses, both on campus and in France, and completing my Capstone has given me the ability to advance my French skills, understand Francophone culture, conduct research, and gain lifelong mentors and friends.
I graduated from Drew in 2020 with a double major in French and International Relations, a challenging task that the French department helped me make a reality. I also served as the Publicist of L'Association Francophone and am a member of the Pi Delta Phi French Honor Society. Forming connections within the department also assisted me in finding my first professional translation job and in writing my senior honors thesis in International Relations which explores the rise of lone wolf terrorism in France. Collectively across these experiences, I have become a more confident, well-rounded individual and have gained important transferable skills that I can employ in graduate study and in the world of international affairs.
Jordan Aussicker C'20: French minor
"One of my favorite parts of my whole Drew experience was going to French class every week! Not only to learn about the culture and history of France and other French-speaking nations, but to also connect with other French students, and to grow closer to the professors who work so diligently to make sure each student feels welcome in the department. Experiences like the Paris ShortTREC were almost unbelievable—one entire month of living with a French family (I'm still in touch with mine!), French classes with students from around the globe, and dozens of day trips, as well as weekend visits to historical sites from the center of Paris to the beaches of Normandy! But by far the best part of my French learning has been the connections I've made in my daily life. Not only can I read, write, speak and understand French now, but I've made life-long friends in the department, and in my work at a local library, I have been able to forge connections with French-speaking patrons who may feel isolated while far from home in a foreign country, not unlike the apprehension I felt at first while living abroad as well!"
Maddy Taylor C'20: French minor
Studying French opened new worlds for me. I came to my first French class nervous and only knowing about three words. Becoming a minor was not on my radar, but as the courses progressed, and I found myself nearing the end of my language requirement, continuing with the program felt only natural. Small class sizes fostered familiarity and friendships with classmates, as we moved like a unit from course to course. One of my favorite French classes was Professor Placet-Kouassi's course in Contemporary French Cinema. The course opened and lead me through the door to French film, and I soon found myself creating a running list of 'French movies to watch' on my phone. As a Philosophy major, I excitedly anticipated the weeks of French Literature and Culture discussing Sartre and Camus. Reading L'Étranger and having class discussions gave me a new contextualization of the book which aided me in my philosophy classes. The breadth of courses and subjects offered within the minor gifted me one of the most enriching and positive academic experiences at Drew.
Nancy Le C'19: double major in French and Psychology
"Being a French major strengthened my critical thinking skills. With classes such as Intro to French Literature and Culture, and Francophone Cinema, I developed the skills to analyze a text or movie which greatly helped me in other classes. As a French major, I also had the opportunity to go on the Québec shortTREC as part of the International French Business course. From visiting start-up companies to universities to simply eating poutine, I gained many cultural experiences in Québec City and learned about life and work in Montréal. I was able to apply what I learned in my French classes in an engaging and unique experience. Along with my worldview, the Québec shortTREC changed how I view myself, teaching me self-confidence. The French department at Drew University helped me feel part of the Francophone community through an abundance of off-campus excursions to museums, film screenings, and ethnic restaurants. From passionate professors like Professor Placet-Kouassi to all the professors in the French department, they gave me the support and guidance to succeed in the French major which I will always be grateful for."
Jake Levine C'19: double major in French and History
When I first arrived at Drew, I did not speak a word of French. I initially took it out of interest, but thanks to the mentorship of my academic advisor, Professor Marie-Pascale Pieretti, I ended up double majoring in French and History and writing a chapter of my honors thesis in French.
The French department created a very open and engaging microcosmic Francophone culture at Drew. From attending the goûters to participating in the Québec ShortTREC with Professor Placet-Kouassi, there was never a lack of options for me to stimulate my learning with extracurricular opportunities.
The highlight of my experience at Drew was conducting research at the Fonds Albert Camus in Aix-en-Provence as part of my honors thesis. The ability to research in France was something I never would have thought possible when I first arrived at Drew. It is a testament to the guidance the French department faculty provided me throughout my time at Drew. Thanks to them, I have been able to continue my research at the University of Oxford, where I am currently pursuing a master's degree with a specialization in twentieth century French history.
Mary McCormack C'19: French major
As a French major at Drew, not only was I able to develop my French language skills, but I also learned about different histories, international relations, and the world at large through the lens of the French language. One of my favorite French courses that I took was FREN 368: L'Afrique en Français: Voices from Africa and Its Diaspora with Professor Placet-Kouassi, which is what inspired me to tackle the subject of the impacts of French neocolonialism in Africa for my final capstone project to complete the French major.
One of the highlights of my experience as a French major at Drew was getting to spend a full semester living and studying in Paris. By the time my junior year came around, I felt confident enough in my French abilities to be able to traverse the city and take a full course load entirely in French. My proficiency in French has continued to allow me to travel back to France explore more of the country.
It's challenging to do coursework in another language, but it has been extremely rewarding to not only have built the language skills, but to also have been introduced to new ideas and perspectives I don't know if I would have ever become familiar with had not been for the French major.
Olivia Winters C'19: double major in French and Theater Arts
I always joke with my friends that I was an "accidental" French major. As a freshman, I was immediately encouraged by Professor Pieretti, who was also my DSEM instructor, to enroll in French courses. I found myself really impressed at how tightly-knit the department was. This whole miniature community created within Embury Hall was created to be inclusive to all, from die-hard francophiles to those just looking to fulfill their language requirement. Even though I entered college with French barely on my radar, the peak of my academic career at Drew was a result of the French department. Under Professor Pieretti's guidance, I spent my senior year writing an honors thesis rooted in both of my majors. I defended my thesis that April in both English and French, and even directed a staged reading of the bilingual play I had written for it. Never before had a professor been so invested in my personal academic journey, and it really was special to have a mentor to advise me from, quite literally, the first day of class freshman year to graduation day.
Andrew Bodo C'15
Like many other students, when I first arrived at Drew, I was overwhelmed by the number of courses that were offered. Of Drew's 30 majors, I never expected that I would end up majoring in French, let alone doing an honors thesis. But I'm glad I did. Doing an honors thesis in French was perhaps the most intellectually rigorous and rewarding experience of my undergraduate career. At the time, I was really interested in gender studies and film. These two passions ultimately culminated in the composition of my honors thesis in which I discussed how French-Canadian director Xavier Dolan undermines prevailing gender identities in contemporary Quebec and replaces standardized ideas about masculinity with alternative identities in his films. My honors thesis, directed by Prof. Pieretti, not only honed my research and communication skills but also helped build my self-confidence. Knowing that I did it once, and thus can do it again in the future, has helped lay the groundwork for future graduate study.
Clayton Curran C'15: double major in French and Political Science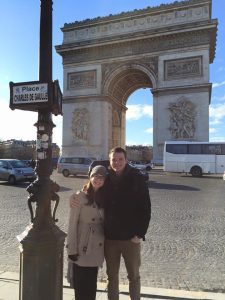 I graduated from Drew University in 2015 with a double major in French and Political Science. I've been fluent in French since the age of seven. I spent two years living in the city of light, one year when I was seven and one year when I was thirteen. With French culture being such a pivotal part of who I am, I knew that I wanted to study further and not let those years in Europe go to waste. My academic advisor, Professor Marie-Pascale Pieretti and all professors in the French department at Drew University were amazing. They allowed me to get back into the language, working on my grammar and writing before diving into advanced literature, film, poetry, and business classes. I was also the president of the Drew French club, a French teaching assistant, and a research assistant for Prof. Pieretti.
The French department has also provided me and many other students with incredibly educational and immersive trips. With the help of the French department I was able to spend my first semester junior year abroad in Bordeaux, France where I took classes at Bordeaux III Montaigne Montesquieu. We also were able to go to Quebec where we visited Montreal and Old Quebec.
I am currently working for an environmental company based in Bordeaux, France while I teach high school level English (with the TAPIF program). I've been here since September and will be coming back to America in the summer of 2016 in order to pursue a Masters degree in environmental policy. I would never be here today if it weren't for Prof. Pieretti and the Drew University French department.
Diamond Troutman C'14
I arrived in the 6th Arrondissement by Métropolitain and found myself exiting the subway tunnels amidst the fast pace of corporate footsteps. What I saw when I reached the cobblestones was a perfect morning experience: the boulangerie-patisserie of the neighborhood stocked with honey-hued dark chocolate croissants, whose warm aromas enveloped even those from the balconies above. With my map of the City and a delicately flaky pastry at hand, I wandered the legendary streets of the left bank of the River Seine until I fell upon a familiar figure. At the gates of the Alliance Française de Paris stood Professor Marie-Pascale Pieretti, with her signature scarf and coupe carré, outlining the itinerary of the day before my Drew University classmates.
My first independent experience abroad as a student and ambassador of Drew University deeply inspired my success at Drew and beyond. In total, I completed four international seminars, including the Morocco to Paris DIS, International Business in French course trip to Québec, and an exchange program with the Centre Parisien d'Études Critiques and Université Sorbonne Nouvelle – Paris 3 as a Kathryn Stanley Scholar. I graduated from Drew University with honors in French in 2014, having served as President of the Association Francophone for two terms, been awarded the Elbridge and Edna Smith Prize and inducted into the Pi Delta Phi French Honor Society.
Lessons learned from travel and cultural immersion in France greatly influenced my professional career as a writer and photographer for leading publications, brands and organizations. Honorable features and collaborations include Phoenix Magazine, Design Sponge, The Style Line and Bloguettes. You can find my latest story, "A Conscious Coming Together" in Conscious Magazine Issue 04 in Barnes & Noble stores nationwide.
Thomas Gilchrist C'07
I put my French degree to use as a human rights and conflict researcher. Since graduating in 2007 from Drew University, where I also majored in Political Science, my career has taken me from Washington, DC, to several Francophone African countries.
While at Drew, I studied global politics focused on American, French, and Francophone political culture. A Drew International Seminar gave me my first exposure to a French-speaking place – the Caribbean island of Martinique – which I followed up with study abroad semesters in Brussels and Paris.
After internships during Drew semesters in Washington and at the United Nations in New York, I started my career as an associate with the Washington advocacy team at Human Rights Watch. I then worked for the same organization in Senegal and eastern Democratic Republic of Congo, conducting research and advocacy on various human rights abuses.
I returned to graduate school to pursue master's degrees from Sciences Po and Columbia University's School of International and Public Affairs. I have since worked as an independent consultant for the United Nations and for various nongovernmental organizations and philanthropies on topics such as justice sector reform, conflict-related sexual violence, and post-conflict reconciliation.